Disclosure: This post may contain affiliate links, meaning we get a commission if you decide to make a purchase through our links, at no cost to you. Please read our Disclosure for more info.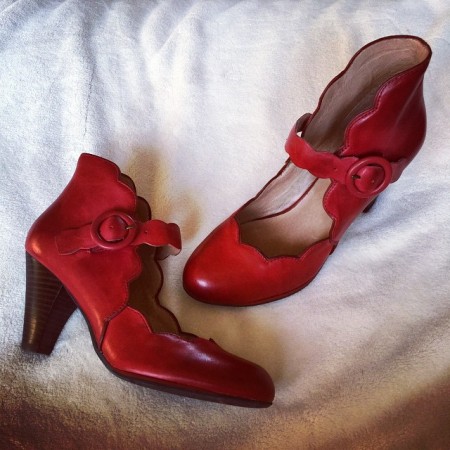 One of my favorite people to follow on the internet is Tanis Miller, the Redneck Mommy! When she recently posted on Facebook with a photo of her new Miz Mooz red shoes with the caption: "I love it when the mailbox brings me new pretties. My husband may not share the same feelings", I asked if I could borrow the image for a post, as the comments were raving:
Miz Mooz are my FAVS!!
These shoes are fabulous!!! I'm retired now and I have back issues – no more high-heels for me but that doesn't mean I've given up drooling over them. Sigh!! It's the same as having an appreciation for high art. Yes, my husband does think I'm a bit strange.
Beautiful shoes Dorothy I love red
love red shoes, these are really original and pretty!
Oh.My.Everything.
They are breathtaking!
Oh my! They are pretty!
Wow! Those are P-R-E-TT-Y
Oh. I LIKE.
I <HEART> these.

Ahhhhhhh. I have been stalking these online for the longest and I am completely jealous.

Shut the front dooR!! Those are DIVINE!! My feet are jealous of your feet!
omgosh they're BEAUTIFUL
OMG I love them.
Those are fantastic.
Oooooooh, yes. Pretties.
OMG. I'm in love…
I like your new pretties..
These make me want to weep. I must have them.
Spectacular!
Oh my gosh I just bought these!!
They are beautiful. I wish I had feet that could fit into nice shoes. I think your husband will love them.
And that isn't even all of the comments! Buy your own Miz Mooz Carissa Dress Pumps before they sell out! Available in Red, Mushroom, Black and/or Forest.
[compare q="miz mooz red" gtm="on" l="6″ ct="US" v="grid" ft="fetchProducts" w="auto"][/compare]