Disclosure: This post may contain affiliate links, meaning we get a commission if you decide to make a purchase through our links, at no cost to you. Please read our Disclosure for more info.
Have you ever tried on a dress, a skirt, or a pair of pants in the store, decided to bring it home, only to figure out that it's not as flattering as you remembered it being? Well, the problem might be your shoes. Shoes can affect the overall feeling and silhouette of an outfit. However, unlike our tops and bottoms, they're a little more subtle, and it can be harder to pick up on how exactly they're affecting our look.
While we all know that high heels are flattering, but wearing them every day can be uncomfortable, impractical, and may leave you with constant sores on your heels. That's when flat shoes are the game-changer. But sometimes, flat shoes can leave us feeling a bit… flat! If you're wondering how to look stylish with flats, these 4 tips will help you do the trick.
The Lower the Vamp, the Longer the Leg
Looking at your flats, the vamp is the upper section of the shoes that covers your foot. A general rule when wearing flats is that the more skin you can show (ankles, legs, toe cleavage), the better. So, the lower the vamp is, the closer it is to your toes, the more your leg will be elongated, as well as your whole outfit. This visually lengthens the appearance of your leg and makes your ankles look slimmer, making you look a few inches taller than you actually are.
In contrast, flats with higher vamps might not look as flattering on you. They cover more of your feet, which can make your legs look shorter than they are, especially when you're wearing them with long skirts or dresses. Instead, high vamp flats work best with pants or very short garments, like miniskirts and shorts. You can look at low vamp flats from ASOS, Nordstrom, or Zappos for a variety of choices.
Pointed Toe Elongates, Round Toe Shortens
The prime rule of fashion is to draw the eyes up and down your body to create a long and lean look, not across the body, since that creates a widening effect on your body. You can achieve this by wearing pointe-toe flat shoes. For instance, if you're wearing your outfit with rounded-toe flats, which might abruptly stop the long line going along the body. They also will make your feet and legs look wide and child-like, resulting in your body looking shorter than usual.
Instead, go for pointy-toe flat shoes if you want to create the illusion of longer legs and prettier feet. Combined with the previous tip, choosing a low vamp, pointed-tow flats will elongate the overall look of your figure, while making your flats look just as elegant as your heels. If you're a tall person, trying a rounded toe can give you the opposite effect and help to tone down your height.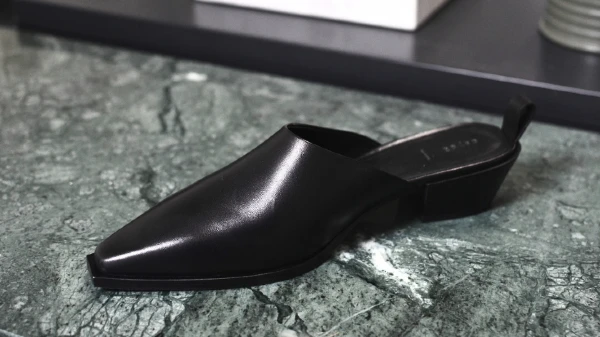 Slim Is Elegant, Chunky Is Casual
Generally speaking, a slim boot or shoe where the material is close to your foot and slim along the ankles appears to be dressier than clunkier boots or shoes. This tip speaks to the more intangible effect our shoes have on our outfits. It is because we usually feel more elegant wearing slimmer boots, while feel sportier and more relaxed when wearing chunkier shoes.
If you want to opt for an elegant look, ballet flats and low vamp mules are your top choices. However, putting on your favorite loafers or sneakers combined with a pair of wireless earbuds will help you get that sporty yet casual outfit.
Extend the Color, Extend the Leg
Going back to our previous tips of lengthening your leg, being monochrome (wearing the same colors) can also help to achieve this. You can wear flat shoes that are close to your skin color (preferably nudes and whites) as if you're wearing them with bare legs and try to match them with the colors of your outfits.
For instance, if you're wearing a dress, a skirt, or cropped pants with bare legs, combine it with a pair of nude flats. Similarly, if you want to wear black boots, mix that with black leggings or dark-colored jeans. Of course, you can combine this tip with the first two tips and wear a low vamp, pointed toe, nude color flat, and it'll basically do all the trick for you, just like how high heels would. Make sure to put on some lipstick to complete the whole look.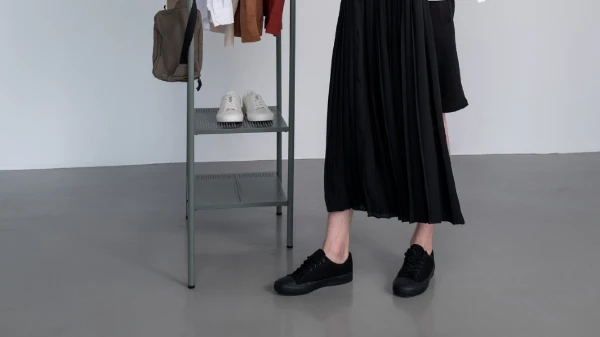 Conclusion
Each person has a different body type and purpose for dressing up. I hope this little shoe science article will help you find the right flats for your wardrobe and outfits. If you're a fan of flats, keep these simple tips in mind when pairing outfits for a trip to work, picnic, or any other plans!