Disclosure: This post may contain affiliate links, meaning we get a commission if you decide to make a purchase through our links, at no cost to you. Please read our Disclosure for more info.
Yep, I'm officially a biker bitch. I went on my first poker run this past weekend, complete with Willie Nelson do-rag and Pocahontas braids. I can prove it.   But I had a hard time deciding what shoes to wear.   If I would have had more notice, I could have ordered some real Harley Davidson footwear.
Harley-Davidson Mikayla Leather Boots
I didn't realize Harley Davidson such stylish looking boots! Take these Harley-Davidson Mikayla leather boots ($140 from Zappos) for instance. Not sure a 4″ heel is practical for a day of eating bugs and hanging on for dear life, but impressive for those that try.
Harley-Davidson Julia Boots
These Harley-Davidson Julia Boots would be a bit more practical with a 3 1/4″ heel, $135 from Zappos. I could see myself wearing these HD boots while strattling a motorcycle.
Harley-Davidson Cinnamon Sandals
They even have Harley Davidson Sandals!   These Harley-Davidson Cinnamon Sandals are not my style, but definitely caught my attention. And priced at only $54 from Zappos, these HD sandals seem affordable enough for any biker babe.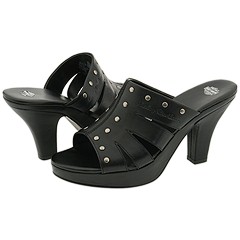 Harley-Davidson Emilie Slide Sandals
Now these Harley-Davidson Emilie slide sandals are definitely more my style and sell for $60 at Zappos. I'm liking the stud detail and 1″ platform making the 3″ heel feel like only 2″. I wish I would have gotten these instead my Aerosoles Eyelet Slides now.
Do you own any Harley Davidson shoes?
You can find Harley Davidson for the best price on Amazon.