Disclosure: This post may contain affiliate links, meaning we get a commission if you decide to make a purchase through our links, at no cost to you. Please read our Disclosure for more info.
If you have a love affair with snazzy sneakers, hot heels, and superb slip-ons, you're far from alone. In fact, the average all-American gal owns about 19 pairs of fantastic footwear!
When looking for a shoe that can be worn on every casual occasion, you might want to think about slip-on sneakers. These shoes are amazing for first dates, nights out, and family dinners alike. They're comfy, cozy, and, as long as you pair them with your outfit appropriately, immensely fashionable.
Here, we're going to talk about how to wear slip on sneakers and look amazing doing it, so read on for more information!
Colors, Styles, and Top-Notch Coordination
Just like with any other footwear, you're going to need to use slip-on sneakers to create a cohesive look. Here, we're going to give you some color and style tips to make sure that your shoes match any outfit that you may choose to wear. Read on to learn how you can pick out a pair of shoes that work with most of your wardrobe!
Color Coordination: An Absolute Essential
Generally, there are three color schemes that look good when paired together. The first and most common is an analogous color scheme, where you match up three colors that are adjacent to each other on the color wheel. You really can't go wrong with these color combos- they're classics that never go out of style.
Besides that, a complementary color scheme- two colors directly across from each other on the color wheel- is also a good idea. If you want something a little more classy and subdued, you can also try any one color + either black or white.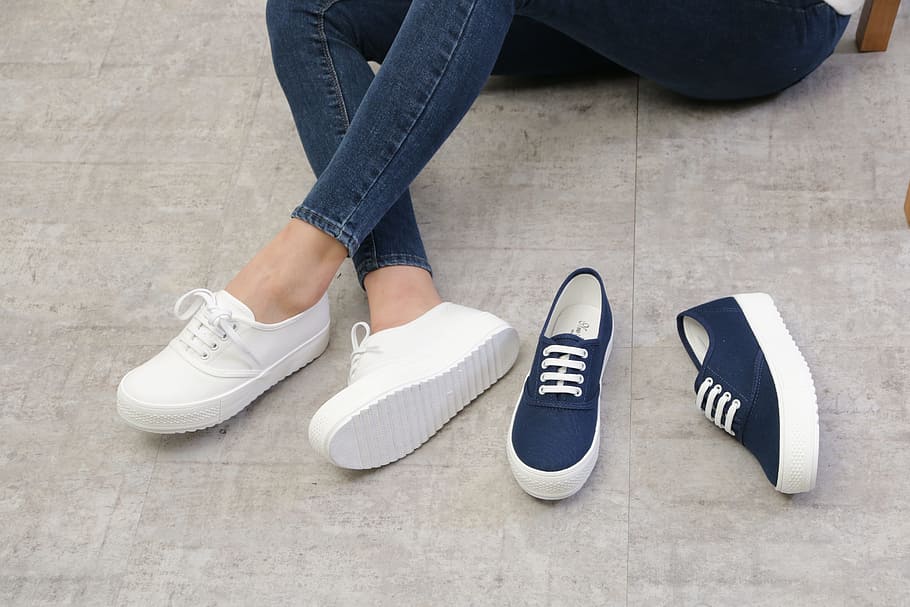 Fini shoes are unisex and they come in all sorts of colors. From gray to black to tan to blue, they've got it all. Take a look at what you have in your closet before choosing a pair or five!
Back to Black
We talked about how you can pair any color with black before, but one of the biggest current trends is pairing black slip-on shoes with other black wardrobe items. Specifically, black ripped jeans that cut off at the ankle look amazing with these shoes.
If you're a fan of leather, you may also like to pair shiny black slip-ons with a leather jacket. The shining texture of your outfit will match with that of your shoes. You can also get footwear that features zippers similar to those on your jacket, which draws everything together.
Animal Print
Some slip-on sneakers come in different patterns rather than with solid print. All of these are pretty awesome, but one of the biggest 2020 fashion trends is animal motifs.
Animal print outfits are eternally chic, so you should get some sneakers to match. Pick out a pair of tiger-stripe or leopard-print slip-ons to take a walk on the wild side.
Outfits to Pair Slip-On Shoes With
Now that you know some color and pattern combos to spice up your slip-ons, it's time to get some ideas for what outfits to pair your new shoes with. There are lots of styles to choose from, and basically every casual outfit looks awesome with matching slip-on sneakers. Nevertheless, here are some of our all-time faves!
Beneath Shorts, Cropped Pants, and Beyond
You probably often find yourself pairing flip-flops and Converse with casual shorts and cropped pants. After all, both of these shoes are awesome and are perfect for combining with the aesthetic of your favorite shorts.
Slip-on sneakers take the best from both of these worlds. They don't go up past the ankle and provide the same casual summer feeling that flip-flops give off. Like Converse, though, they protect your entire foot and make sure that you can walk around comfortably all day.
Spice Up Your Short Dresses
When you wear an adorable spring or summer dress, you probably don't want to take attention away from its style with other parts of your outfit. We've all been there. Having shoes that are too flashy can make the pattern of your dress less noticeable or neutralize your favorite parts of it.
Clearly, this is something that you need to avoid! Slip-on sneakers are perfect for this. They're small shoes that don't take up too much space on your legs, which draws people's eyes to your outfit. Additionally, you can get them in many solid colors to match with a single hue on your dress. This means that your shoes can draw your outfit together while not stealing the show from your favorite apparel.
Slip-Ons + Roarin' Rompers: One Cool Combo
Just like with dresses, you don't want shoes to detract attention away from your adorable rompers. This makes slip-on sneakers perfect for wearing with these outfits. The principle is the same as the dress/slip-on combo: slip-on shoes are cute and cool while not taking the eyes off your romper.
However, slip-on shoes also provide your romper-wearing self with one more benefit: an athletic vibe. While rompers aren't intended to always be athletic, they definitely give off a more casual and active feel than dresses do. This makes sandals or heels that would go with a dress look incongruent with a romper. You need to keep things light and casual when you wear one of these awesome outfits.
Accentuate With Awesome Anklets
We've talked a lot about how slip-on sneakers don't steal the show. But what if you want them to?
Slip-ons are really casual and versatile, but they have a cool look to them, too. If you want to draw the eye to your footwear and ensure that people notice it, wearing an interesting anklet is a great way to do just that.
Charms are super en vogue right now, so consider a slim chain or cord with a single charm on it. This can be a sterling silver sun, tiny handmade turtle, or simple gemstone that you felt a connection to.
More on How to Wear Slip On Sneakers
While there are tons of awesome shoes that you can wear, slip-ons are definitely one of the best footwear styles for casual occasions.
Now that you know how to wear slip on sneakers and look fabulous while doing it, it's time to learn more. Check out the 'buy shoes, pay later' tab on our home page to browse all of the best slip-on shoes that you can buy today. We offer tons of styles and colors so that you can keep your feet comfortable no matter what you're wearing!