Disclosure: This post may contain affiliate links, meaning we get a commission if you decide to make a purchase through our links, at no cost to you. Please read our Disclosure for more info.
If you have an interest in knowing your future and getting predictions from your horoscope, here comes some good news for you. You can now get predictions on your future fashion sense too. Yes, it can be explained through a horoscope of your shoes! Sounds strange and interesting, right? Well, different kinds of shoes reflect different personalities and aura. Your Sun sign may determine the type of shoes that would best suit you and bring you happiness and contentment. So, come on and check your shoe horoscope here, right now!
Gemini Shoes
A Gemini is a socialite and has an active lifestyle, exactly the same as reflected by the durable wedge shoes like Charlotte Olympia Miranda Leopard Platform. The shoe shades that match your beauty and style are yellow, white and black. This shoe could impart a lot of energy and make your life peppy and beautiful.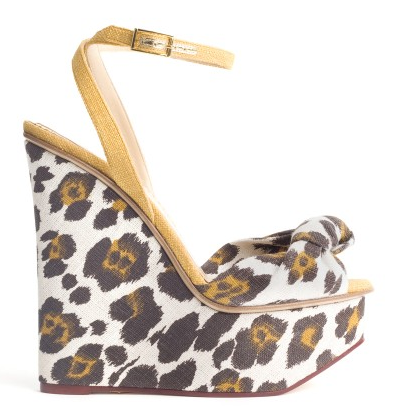 Cancer Shoes
Your shy nature may push you a little bit away from making important contacts that could have otherwise brought you general and professional benefits. If you want yourself to be pushed a little and need to be more motivated, the woven gold-colored leather ankle boot from Givenchy can provide the best results. It has an edgy belted buckle that is fun when the shoe is worn.
Leo Shoes
If you are diligent and committed to do something, you can achieve great heights. Bring such determination by wearing the silver-buckled Giambattista Valli Giraffe Linen wedge shoes. This has wild animal prints that get you energized to achieve what you want.
Virgo Shoes
It's time to embrace romantic emotions and let love come into your life in full swing. What you just need is restoration and this therapeutic effect can step into your life on the ankle wrap puzzle wedge shoe from Lanvin. Its soft color combination of pink and white bring romantic feelings, and its wrapping motion design indicates that all barriers may be removed through a warm embrace.
Libra Shoes
A Libra can go far ahead of others on the path of success and all that is needed comes in the form of support from their loved ones and people who are close. An addition to their support list is greatly facilitated by the wedge shoe from Alexander Wang Kasia, which offers comfort to one's ankles, toes and foot arch. With Velcro and buckles, this shoe offers you a creative open design.
Scorpio Shoes
You are passionate and can empower others, leading to relations that are fulfilling whether these are with your friends or lovers. So, choose the raspberry-colored Nicholas Kirkwood oxford shoe that may induce common sense, as well as great passion within you.
Taurus Shoes
A Taurus is always very ambitious to go far in life and uses the past knowledge and experiences to achieve tougher goals. This spirit has a perfect match with the stone-detail platform shoe from Chrissie Morris Cinzia. This pair of shoes is crafted using the apis lazuli stone, and its stiletto heels are in sync with the ambitious spirit of a Taurus.
Sagittarius Shoes
You are the kind who always keeps a smile on their face and also wants to keep the whole world smiling with you. Your happy-go-lucky spirit is powered when you step into the Stella McCartney's scarlett clog sandal. This sandal has a ribbon tie on top and the color will definitely bring a smile to your face.
Capricorn Shoes
You are the one who keeps sticking to a route till the success automatically rolls on to your path. This unique style can only be matched by a shoe like the Biambattista Valli pony print fringe heel.
Aquarius Shoes
You are an all-time winner and especially when it comes to your power of convincing others through personal charm and influence. So, while you do this convincing task, do not forget to wear the ideal Chlo scalloped ballet flat shoe. The scallops would help others come to your side.
Pisces Shoes
As Pisces reflects a strong and confident personality, the best-suited shoe to step-in is the Rick Owens classic wedge ankle boot. It is as rock solid and unshakeable as a Pisces is. It induces strong values so you do not give in to others' unjustified expectations.
Aries Shoes
You are a simple person who believes in maintaining peace and harmony in the world. You have a global perspective and want to sort out any issue through justified, peaceful communication with others. Such a sober style is perfectly matched by the neutral-colored Charlotte Olympia Carmen raffia wedge shoe. Its color reflects neutrality in your personality style.
Your shoes can reflect the style you carry in front of others through the way you feel and act. Your choice of a particular kind of footwear for yourself may display your personality characteristics, emotions and confidence. Others can judge your likes and dislikes through your selections even if they do not know your sun sign. But, the right choice in synchronization with your sun sign and the associated personality type can speak a lot about you. Then why to think so much for selecting the correct shoe type that could change your future in a stylish way!