Disclosure: This post may contain affiliate links, meaning we get a commission if you decide to make a purchase through our links, at no cost to you. Please read our Disclosure for more info.
If you have a collection of unique shoes, finding a way to display your treasures can be an important aspect of your room decor. Each pair deserves a special place where you can view your prized possessions and easily choose just the right accessory for your outfit. Working with limited closet space or many pairs can make it a challenge, but there are tons of fun and creative ways you can display your favorite shoes.
Shelving & Stacked Boxes 
Create a Shoe Ladder 
You can display your shoes outside of your closet on a ladder as a shelving unit. Your heels will lock over the ladder rungs and hang neatly on the shelves. You could line up the pairs randomly to make an eclectic display or place them ordered by color to make a colorful and organized arrangement. A ladder is a perfect addition to any room and gives a shabby chic feel.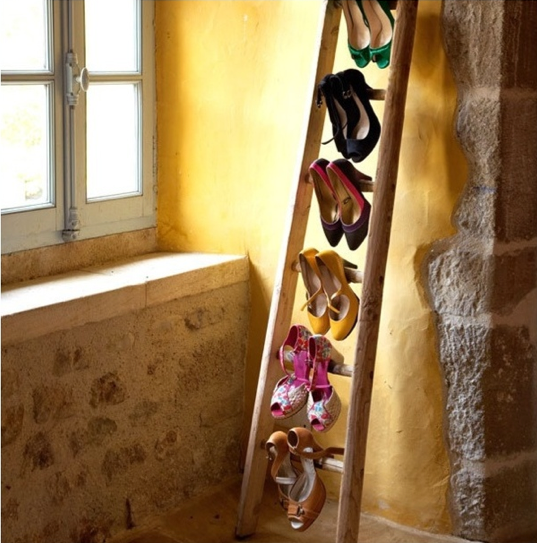 Via jonespg.com
Hidden Cabinet 
If you like to keep your shoes out of sight sometimes but on full display at others, a shoe cabinet may be just the thing for you. There wonderful cabinets from Ikea have fabulous hinged drawers that fold out halfway so that you can open and close them without taking up much space. You can paint the drawers in a color of your choosing or leave them in the signature black or white options for a classic look.
Via Ikea.com
If you have extra space inside your closet, create a shoe shelf to display your favorite pairs. Keep your most worn shoes displayed at arm level so it's easy for you to grab while you get ready in the morning. There are many great options for a shoes shelf, but one that seems especially space conserving is a stackable twelve pair organizer from The Container Store. Each cubby is just the right size for a pair of shoes and it will save you precious space in your closet. You can use any type of shelf to achieve an in closet display and a vintage or industrial shelf might add in an even more glamorous aspect to the decor.
Closet Shelving
Via Modernize.com
Boot Hangers
Boots can be a storage nightmare for many decorators. Most shoe cubbies are too small to hold high boots and when you bend them over to fit, you risk getting a crease in the leather. Use pants hangers with clips to clip your tall boots in pairs and hang them on the lower rod in your closet. You will be able to easily see each pair and they will be safe from damage.
Via Alldaychic.com
DIY Ledge
A fun DIY display uses moulding from your local hardware store. Just choose a style and have several pieces cut. Paint the moulding a bright color that matches your decor or would make a good accent shade. You can install the moulding easily and your high heels will fit perfectly on the ledge.
Single Shoe Stand
Display your shoes in one of these fun ways and you will finally be able to enjoy your collection as you should. No matter how many pairs you have, keeping them organized is essential to any closet. When you can see what you have, you will be able to put together more fashionable outfits and never find yourself crawling around the floor in the morning looking for a match again.
For more ideas and inspiration, head to Modernize.com.