Disclosure: This post may contain affiliate links, meaning we get a commission if you decide to make a purchase through our links, at no cost to you. Please read our Disclosure for more info.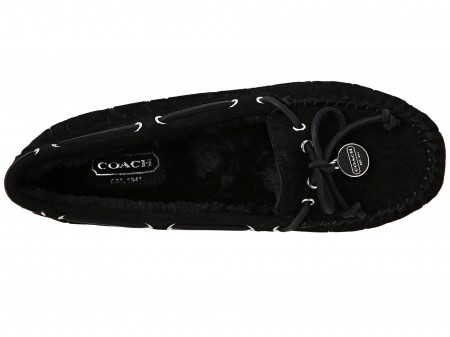 I am not a slipper person. I like shoes – even in the house. But after getting new carpeting, I decided that we would start taking our shoes off at the door and I would wear slippers instead. The problem in my one-year search for the perfect slipper was that they felt like slippers – squishy, unstructured, easy to shuffle in, hard to walk in. Basically, I wanted slippers that felt like shoes. They were nowhere to be found.
Full disclosure I am totally judgmental of people who wear their clog-type slippers out to the grocery store or anywhere further than their own driveway. Wrong. Wrong. Wrong.
Then, it dawned on me that I was approaching my slipper search backwards. So, I switched gears and decided to start looking for shoes that felt and looked like slippers. Bingo! Suddenly there was a whole world of more structured footwear that could be used as slippers. I credit this to the flats/moccasin trend that seems to be everywhere.
Firm rubber soles, some arch support, faux fur insides, roomy enough for warm socks, and totally styling – heaven. I ended up buying two different pairs of "slippers".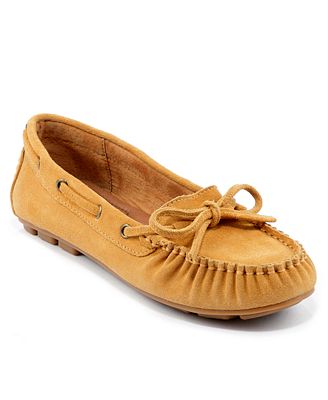 One is from Lucky Brand and the other from Coach. These shoes will never be worn outside even though they were intended to be.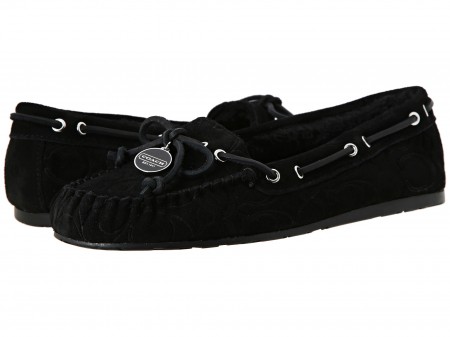 Wearing Coach Antonia Moccasins these makes me feel a little special. Combing voraciously though fashion magazines in my 20's and early 30's, I distinctly recall the ads for Tod's shoes. Swanky, elegant people wearing shoes (loafers) with rubber nubbies on the bottom and heel just to drive or wear in doors. It seemed so decant, so rich, so elegant. Oh, how I wanted to be that girl, but with a more than $500 price tag those Tod's were a bit out of my reach.
One of the great benefits of my new slippers is being able to throw them in my tote and take them when visiting friends. They look like shoes because they are, so people at a gathering are never the wiser. This past weekend I was attending a holiday party at a friend's house, which is carpeted and we were in the midst of a serious rain storm. The shoe/slippers were perfect because I wasn't sure about their policy for taking off shoes. Actually, several people complimented my stylish, black Coach shoes, not knowing that I was so at home in my slippers.