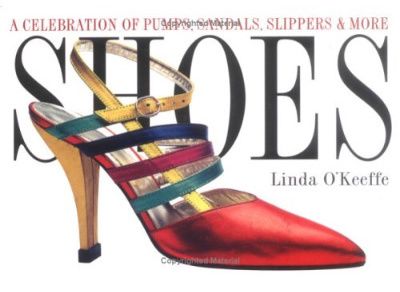 I just got home from BlogWorld in Las Vegas where I was a speaker and spoke about this very shoe blog! When I was in Vegas either this year, I took a tour of Zappos, and have recommended it everyone I know that visits there!   And it's free (and better than most other paying tours available in Sin City).
So when my friend took Squeak and I out to dinner on Friday night at the Wynn, he gave me one of the free books he received on his tour the day prior – Shoes: A Celebration of Pumps, Sandals, Slippers & More by Linda O'Keeffee (shown above and available at Amazon, $11.16).   He thought I'd like it, and he was right!
Afterward hearing him talk about his experience and how the tour was even different (and sounded better) than the tour I took, I thought it'd be even more awesome for Squeak and I to tour it together. I immediately looked up Zappos' phone number and called. They don't do tours on weekends, darn it. But the guy was very nice and suggested we simply email tours@zappos.com when we know the next time we'll be in town to set up a tour for then.   Cool beans, I will!