When I went shopping last week, I didn't have time to scope through all the shoes on sale at Maurices. But yesterday I did! And I came away with these Donut Gladiator Sandals for $5.50 (originally $26) and these Tyra stretch croco boots for $9.99 (originally $39).
The sandals remind of a pair of "Yo-Yo" sandals with a hole in the rubber soled heel that I had back in junior high school! And what's even more ironic is that I recently received this email from Samme:
Hi, Just how old are you!! 🙂 Do you remember Yo Yo shoes in the mid 1970s?(shoes with holes in the heels)  I've not seen or heard of them since. I did a search for Yo Yo's a few years ago and just came up with some expensive designer brand (no holes!)   Thanks for your reply. Love the site. Found source for knockoff Uggs for my toddler!
Well, I've been 29 for quite a few years now.   I think it was the early 80's when I had my Yo-Yo's.   Steve Madden makes a similar style with their Champyun sandals…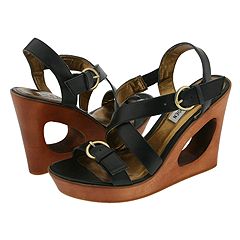 And these Madden Girl Women's Lamontt Donut Hole Wedge Sandals (on sale for $45 from Amazon)…
Anyone else know of some cool sandals with "holes in the heels"?
The best selection of Yo-Yo sandals are vintage and available Ebay.com.