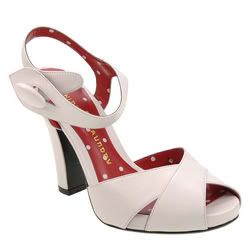 You always hear the myth not to wear white shoes (or pants) after Labor Day. But my theory is as long it's hot outside, white is okay! In fact, my cousin is getting married in the park this coming Saturday, and I think these Vintage Laundry Twins Sandals (available from ChineseLaundry.com, $69) would look perfect with the pink and white taffeta dress that I plan to wear. (The last time I wore that dress with my Skechers Sandals.)
Vintage 40s and 50s. Fun and flirty sandals with a retro look and feel. Oversized button adds extra class to the broad ankle strap and chunky heel. Fun polka dot insole lining. Leather upper. Balance manmade. NOTE: RUNS HALF SIZE SMALL.    Approx. 4 inch" heel.
Why they named these sandals "TWINS" is beyond me? But since I am a mother of twins, it makes them even more perfect!
I hope you all had a relaxing, but fun Labor Day Weekend – it's back to the grindstone now! But first, what are your thoughts on "White after Labor Day"? Yay or nay?