Shoes, shoes, shoes; a woman's best friend and pure indulgence for many. Many ladies out there have an enormous amount of shoes with many of them being incredibly expensive. Women keep their most beloved jewellery on accessories hangers and some ladies even have a special wardrobe for their extensive shoe collection. In a true tribute to those amazing and immensely expensive shoes from around the world, as well as the ladies that adore them, in this fashion based article, we look at the top 5 most expensive shoes in the world.
Top 5 Most Expensive Shoes In The World
1. Stuart Weitzman's diamond creation
As the famous Marilyn Monroe once said, "˜Diamonds are a girl's best friend', and these amazing shoes incorporate both that and elegant shoes. These expensive diamond encrusted shoes were created for the 2007 Oscars for the feet of "˜Dreamgirls' actress, Anika Noni Rose. These amazing and very expensive shoes cost a whopping $500,000.
2. The original slippers from "˜Wizard Of Oz'
"˜There's no place like home' and there is nothing like these expensive shoes. These are one of the most iconic shoes from a movie and are the dazzling pair of ruby slippers that Judy Garland wore in the "˜Wizard Of Oz'. These slippers, some of the world's most expensive shoes, sold at an auction at Christie's for a cool $612,000!
3. Harry Winston's Ruby Slippers
Also taking their inspiration from the "˜Wizard of Oz', these ruby slippers and really expensive shoes were created by the House of Harry Winston to mark the classic movie's fiftieth anniversary. These ruby slippers were made using 4,600 rubies totalling 1,350 carats. 50 carats of diamonds were also incorporated into these expensive shoes and it took craftsman Javiar Barerra two months to set.
4. The most expensive sneakers in the world
Differing from our other counterparts on this list, here are the most expensive sneakers in the world. The expensive shoes were presented to rapper, Big Boi at the Solitaire Kicks launch party in November 2007. Solitaire Kicks offers customers the chance to customise their sneakers with yellow, blue or white diamonds, as well as gold and platinum, making these shoes one of the most expensive in the world at an astounding $50,000.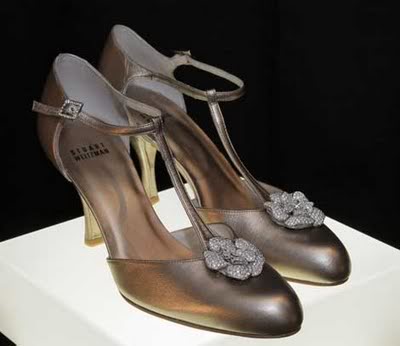 5. Stuart Weitzman "Retro Rose" Pumps
Another Start Weitzman feature on this list is the incredible "˜Retro Rose' pumps this talent designer created. The expensive shoes have a 1940's feel are in a dust gold colouring. What makes them so incredible and appealing; more than 1,800 special Kwiat diamonds weighing 100 carats were used to make the roses that feature on the elegant and expensive shoes.