Disclosure: This post may contain affiliate links, meaning we get a commission if you decide to make a purchase through our links, at no cost to you. Please read our Disclosure for more info.
You can smell the salt in the air. Feel the warmth of the sun on your face. You hear the call of seagulls and follow their shadows as they pass overhead. The sound of waves crashing against the sand surrounds you and beckons you to come and play.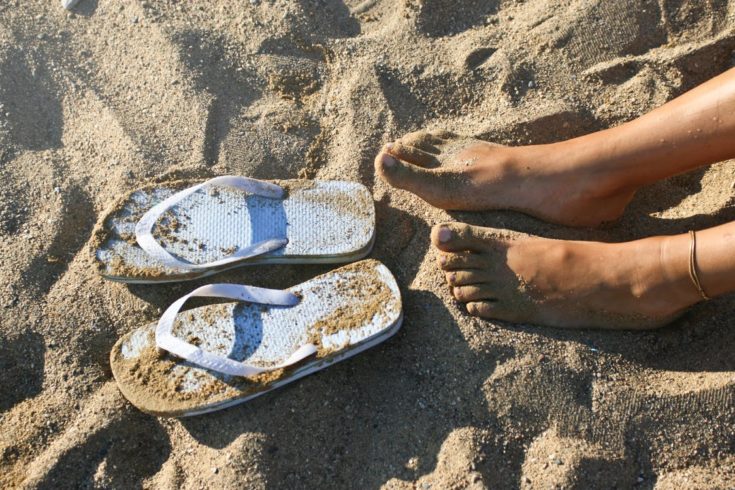 You're desperate for a beach day. A day away from responsibilities. Just you, the surf, the sand, and the sunshine. Nothing else.
And as spring becomes summer, that dream will soon become reality. You don't have much longer to wait, which is why we've found the top 10 beach accessories to help make all of your beach day dreams come true.
Read on to find out what you should bring for your day in the sun!
1. Beach Towel Bean Bag
Yep, you read that right! A bean bag you can actually take to the beach! The Sandusa beach towel bean bag is the next big thing.
Its cotton toweling and waterproof nylon backing mean you don't have to waste any time drying off before you get comfortable—just hop right on after your swim.
It comes in two sizes—big enough for two and single size—and two colors. Now you can take quality comfort straight to the sand!
2. Cooler Beach Chair
If you're not feeling the bean bag at the beach idea, opt for the beach chair that's cooler than all the rest. Literally!
A beach chair with a cooler is the perfect way to make sure you catch all the rays while your drinks remain chilled. No more warm, plastic-y water for you—your drink is ice cold!
3. Sand Cup Holders
You don't want to waste a drop of that refreshing, cold drink you've got, do you? Don't like the taste of gritty sand in your soda? No one does.
The solution? Sand coaster cup holders to keep even the most unsteady drinks stable in the sand.
4. Waterproof and Sand-Proof Bluetooth Speaker
No trip to the beach is complete without a solid soundtrack. But all that water and sand can ruin the vibes if your speaker isn't up to the task.
A waterproof and sand-proof Bluetooth speaker that is tough enough to withstand the dangers of the outdoors without compromising on sound quality will ensure you have the perfect playlist to suit your sunny outing.
5. Solar Powered Phone Charger
Your camera. Your music library. Your messages to help your friends find you in a sea of other beach goers. It's all on your phone. And if that dies, the party goes with it!
To be sure that you don't lose contact with your friends and that your catchy tunes keep playing, make sure to take a portable phone charger with you. It's one beach gadget you shouldn't do without.
Take it one step further with a solar-powered phone charger and keep the tropical party going for as long as the sun continues to shine! Leave your charging worries behind and focus on fun in the sun.
6. Refillable Water Bottle
Relaxing in the radiant sunshine is one of the best ways to spend your time. But the fun can be cut short if you don't look after yourself while you're out there.
A refillable water bottle is an absolutely essential piece of beach gear. Avoid ruining your relaxation with a headache or dizziness caused by dehydration. It's easy to forget to keep hydrated, despite the water all around us at the beach.
We get caught up in the excitement of water sports and building sandcastles and forget about the importance of drinking water regularly until we start to feel less than perky.
Stay hydrated (and help out the planet!) by taking a refillable water bottle with you whenever you head to the beach.
7. Umbrella or Sunshade
Staying hydrated isn't always enough—sometimes you just need a break from the relentless heat and a chance to cool down.
If you're with a big group and need a large shady space, a giant umbrella or canopy shelter is the way to go. Set up a nice picnic table underneath it and you and your friends will be the envy of the entire beach.
If you're just after some individual shade, you might be better off with a beach chair with an adjustable canopy. These chairs often fold up, making them easy to carry during the trek to the perfect spot.
8. Towel Clips and Towel Rails: The Beach Accessories You Didn't Know You Needed
Don't you find it annoying when a simple shift in your chair sends your damp beach towel tumbling into the sand? If you didn't already, you certainly will now that I've mentioned it.
But, don't worry!
I have the perfect solution: towel clips! Clip your towel to your beach chair and move around as much as you'd like—your towel won't be going anywhere.
If clips aren't quite your style, you can also find beach chairs with a folding towel rail on the back. Avoid the pain of an unwanted exfoliation by keeping your towel clean, dry, and out of the sand.
9. The Perfect Outfit
Dress for the occasion with a swimsuit that makes you look as great as you feel. Flirty bikinis, classy one-piece suits, or trendy tankinis—the possibilities are endless!
Find the fit that's most comfortable for you. If you plan to lounge and work on that golden tan, opt for a bikini. Not comfortable showing that much skin? A one-piece or a tankini will give you maximum coverage.
Planning to swim in those powerful waves? Make sure your suit has straps that are secure enough to withstand their strength. It'll save you embarrassment when you walk back for your towel!
10. Portable Shower
The day is done but the memories will last a lifetime. And so will the sand in your car if you don't wash it off first!
A portable shower will help you wash away the sand, seaweed, and any dirt that may have decided to stick to you throughout the course of the day.
It's a simple way to rinse off so you're not forced to use a coarse brush or take the beach home with you.
Walking On Sunshine
Be sure to take these 10 beach accessories with you and turn a fun day in the sun into the best beach day ever.
For more posts like this and all about shoes, follow us on social media!