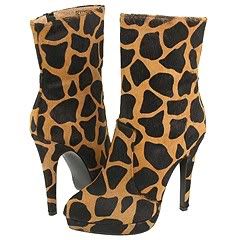 If you glance at these Promiscuous Sexiness Giraffe Boots (no longer available from Zappos.com),  they honestly look like hoofs.
I know we have never  seen a giraffe in heels, but these seem to be very life like. The detail of the genuine leather, suede and pony hair uppers look as if a poor giraffe had to sacrifice his life just to produce these boots.
You can find Giraffe Boots for the best price on Amazon.