Disclosure: This post may contain affiliate links, meaning we get a commission if you decide to make a purchase through our links, at no cost to you. Please read our Disclosure for more info.
According to a Time magazine poll, the average American woman owns 27 pairs of shoes. While that may seem like a lot to some people, here at Shoeaholics Anonymous we live by this motto: "A woman can never have too many shoes."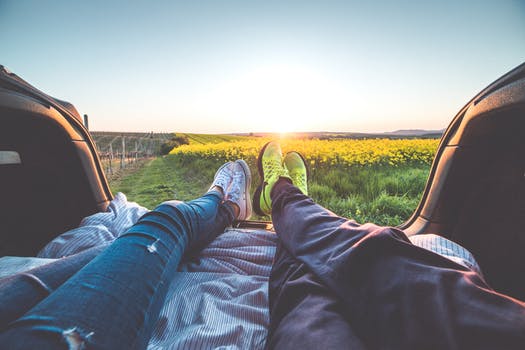 Besides, it's springtime—which is the best excuse to add some new pairs to your closet. With the snow finally melting and temperatures on the rise, we know your tootsies are dying for a fresh pedicure and some spring air come April.
There are several exciting spring shoe trends showing up in stores right now. Here are five must-have shoe details for spring 2019 that you're going to love.
1. Nautical Embellishments
Expect to see spring footwear that incorporates nods to the seaside, whether it's using fishnet roping or embellishing shoes with shells or starfish. We can't think of a better pair to wear to a beachfront wedding than something that pays homage to the sea.
Even if you don't live near the coast, this fashion detail will ensure your spring shoes take you right on through the hot days of summer.
2. Feathers
It seems appropriate that the season associated with birds chirping is welcoming feathered shoes this year. Designers didn't hold back when adding plumage to their footwear for the spring 2019 shows that were held in the fall.
They showed up on the toes of mules, giving the shoes a flirty boudoir feel. Feathers were also wrapped around sandals and placed on the back of boots. This is definitely one trend we consider to be stylish and sexy.
[amazon_link asins='B0771GVKVS,B074XNYN3H' template='CopyOf-ProductGrid' store='shoeaholicswp-20′ marketplace='US' link_id='36d65166-7e93-401a-a5f0-ce9e4a6edb7c']
If you're cat owner though, this is one style you may want to pass on. Kitty may not be able to resist the feathers' flouncing motion as you walk!
3. Decorative and Contoured Heels
The heels are usually one part of the shoe that gets forgotten when it comes to footwear design. That isn't the case for spring 2019, where many heels resemble objects such as leaves or are contoured into sexy shapes. They may also be encrusted with "jewels" or crystals for a shiny touch.
Designers are letting their creativity run wild for this trend, so expect to see some unique heel designs this season.
4. Citrus Crush
Winter's black and gray footwear is being replaced by sunny shades of bright yellow, orange, and lime green. These vibrant colors are usually seen in the summer but it seems many designers couldn't wait—not that we're complaining.
Nothing brings an unexpected pop of color to a neutral outfit like a yellow or orange shoe. These juicy hues replace red as an accessory accent shade this year.
[amazon_link asins='B074Q3WCMS,B06ZYLMLXF' template='CopyOf-ProductGrid' store='shoeaholicswp-20′ marketplace='US' link_id='127840b6-bf1c-491c-a5ea-9f2d62b7ef41′]
5. Fashionable Sneakers
Sneakers have definitely been upgraded in the past few years. There are heeled sneakers, pastel rainbow sneakers, and even sneakers that can be matched with work outfits.
This spring we're seeing plenty of these sneaker styles and more that extends their appropriateness way beyond the gym. Check out the sneakers at Discount Hoka One One to find the right pair for your daily routine.
These Spring Shoe Trends Will Brighten Your Wardrobe and Day
These five spring shoe trends will literally put some spring into your step and rescue your wardrobe from the winter doldrums. Which of these trends do you plan on trying this season?
Shoeaholics Anonymous is dedicated to bringing you news about the latest footwear trends and shoe fashion tips. To learn more about the styles you can expect to see this year, check out our shoe trends posts.