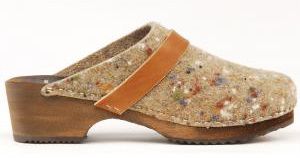 Knowing what a huge mule/clog fan I am, Cape Clogs graciously sent me a pair of Wooly Clogs to review. My first impression was that they look like attic insulation with all the speckles of different colors.
Cape Clogs come in EURO sizes, so I requested a size 38 which is equivalent to a size 7/7.5 US size. But they must run big, as when I wore them yesterday, I had a hard time keeping them on. I wore them again today with thicker socks and they were much better. Even though they don't look it, they are extremely comfortable.
I think I would have preferred the look of these Tartan Red Plaid Cape Clogs better. But I'm really glad I didn't get the Silver Swedish Clogs (below), as they look like aluminum foil insulation!
Cape Clogs is known for making most of their shoes with crafted by one of Scandinavia's oldest and most respected clog makers. Cape Clogs are available from DesignerShoes.com and Endless.com.