Disclosure: This post may contain affiliate links, meaning we get a commission if you decide to make a purchase through our links, at no cost to you. Please read our Disclosure for more info.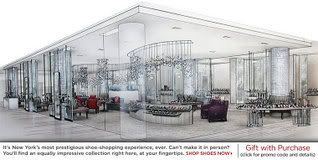 Am watching the TODAY show this morning where Meredith Viera  is giving a sneak peak of the new shoe department at  Saks Fifth Avenue  flagship store in New York City  that plans to open to the public tomorrow.  10,000 square feet holding over 100,000 shoes! The department, which takes up the whole eighth floor, is  so big that it has been granted its own ZIP code, 10022-SHOE!
So I ventured over to Saks.com  to find a picture to share, and saw this promo…
Receive Free Exclusive Limited Edition Collectible Stamps, created by our favorite shoe designers (Christian Louboutin, Jimmy Choo, Stuart Weitzman, Valentino and Giuseppe Zanotti)  with any Saks' Shoe purchase with Code: SHOE. I wonder if we can buy those stamps from the post office?   If so, I'm gonna frame some.