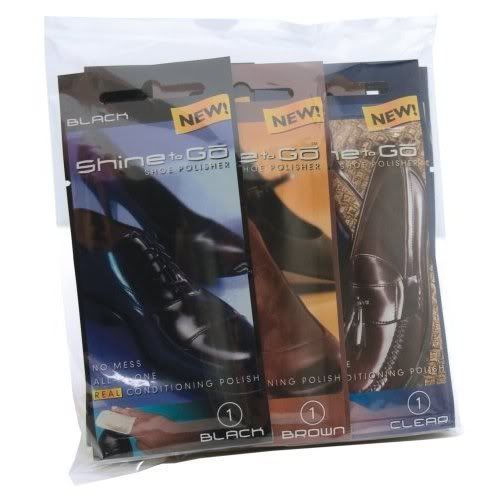 A good shoe shine is recognized, appreciated and acknowledged as the look of today's successful professionals – and now you can share this shine with others. Shine to Go shoe polisher gives today's professionals the look – and confidence – that can only come from shined shoes. ~ ShineToGo.com
Zocalo Group sent me some of these convenient all-in-one, no mess shoe polishers that include a polish applicator and buffer with real cream polish to test out. How do they work?
1. Remove the shoe polisher from the package (available in Black, Brown and/or Clear), unfold it and slip onto two fingers. (Package may be reused for easy disposal).
2. Apply a thin layer of polish to both shoes using a circular motion. Allow polish to dry to a haze.
3. Then, turn over the polisher to buff to a shine.
SHINE TO GO Shoe Polisher nourishes leather with natural conditioners, leaves a deep luster finish without any sticky residue and hides scuffs. Cool, eh? And you can buy these Shine To Go Shoe Polishers from Amazon.com for under $1 per use! Way cheaper than getting your shoes shined at the airport!
[phpbay]shoe polish, 2[/phpbay]