Sarah Palin did a photoshoot for Runner's World Magazine* wearing ASICS Gel Nimbus running shoes (source).   ASICS ended up winning Runner's World "Shoe of the Year."
Newsweek then in turn used a photo of that photoshoot for the cover of their November 23, 2009 issue which is causing controversies, and Palin herself is not happy with the latest cover.
So did Sarah Palin get paid by ASICS for product placement? I'm guessing so because knowing Sarah's influence on women shoe buyers, the ASICS Gel-Nimbus 11 running shoes are bound to be a hot seller.   Get yours now before they fly run off the shelves…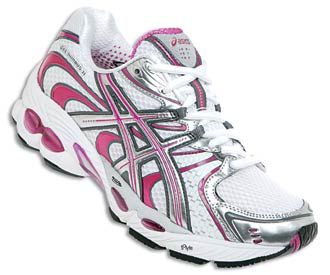 *Subscribe to Runner's World Magazine for only $12/year from Amazon. Save 78% off the $54 cover price.
You can find ASICS Gel Nimbus Running Shoes for the best price on Amazon.