Disclosure: This post may contain affiliate links, meaning we get a commission if you decide to make a purchase through our links, at no cost to you. Please read our Disclosure for more info.
Good shoes and happy feet are more important than we like to admit. Comfortable and casual wear is a prerequisite to making your day progressive. Finding comfortable footwear without compromising style and femininity can be difficult for a woman. Easy-going, casual footwear for women usually includes sandals or slippers. However, when it comes to athletic sportswear, women have fewer options than men. Ryka shoes is one of the few premium companies dedicated to providing professional sportswear for women.
For over 25 years, Ryka has been innovating athletic footwear exclusively for women. From the shape of a woman's foot to the angle of her stride, the company understands their customers' needs and inspires them to achieve their own personal transformation both physically and emotionally.
About The Brand
The brand promotes a fearless women's community. Their fitness apparel and footwear reflect a powerful, confident, and bright female with a vision and commitment to achieving it.
The company started in 1987 with the vision of Sheri Poe, a sexual assault survivor, and a fearless warrior. Sheri began designing custom shoes for women as a part of her fitness journey. One of the major reasons Ryka Shoes are a customer favorite is that they are the real stuff and not a smaller version of men's shoes. Each article is specially made according to women's unique bone structure, muscle movement, build, and athletic needs.
Are Ryka Shoes Good?
The simplest answer is Yes! These shoes are a statement for women's apparel and footwear. They are comfortable, breathable, and custom fit. Each article has a cushion, soft foam, and light spring back mechanism to help sustain the flexible movement and average female weights.
Does it even matter to have special shoes for women? Absolutely – because women's feet are different from those of men, a size-down version of a men's shoe and a shoe specially designed for women's feet are two completely different things. Among the many outstanding features, some attributes that set the shoes apart from others in the market are the breathable mesh tops, lightweight structure, shock-absorbing cushions, medical-grade shoe technology for heel and arch support, and durable rubber outsoles with traction.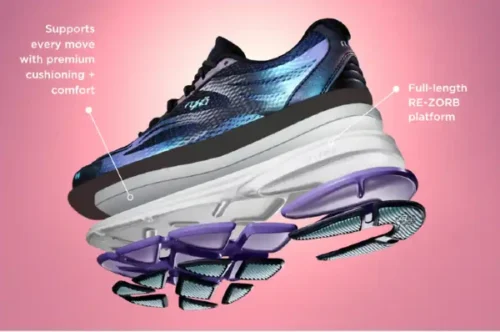 Trending Styles
One of their best sellers is Perform Walking Show. Its features include premium anatomical RE-Zorb insoles, excellent for support and shock absorption. Besides the obvious comfort, many women love these shoes for their luxurious performance fabric and streamlined cushion knits.
Another one of their trending styles is the Optimize XT Training Shoe. Their premium design makes them perfect for all kinds of workouts and training. From yoga to high-intensity cardio, the shoes support the body and provide stability in all postures. The shoes feature space for a narrower heel, roomier feet, and a more uplifted arch, something you will not find in a standard unisex shoe.
Are Ryka Shoes True to Their Size?
Most of Ryka's collection is true to its size. However, if you wear half sizes and have wider feet and bone structure, try sizing up as the exact size may feel tiff at the toe area. Their website is very inclusive, and you can search up or ask a customer care representative for the toe box size before purchase to be sure of your size.
Do Ryka Shoes Run Big or Small?
If you have wide feet or a curvy toe bone, consider sizing up. The shoes come in half sizes to find the right fit regardless of your show shape and size with a little bit of searching. For instance, if you normally wear a size 5, buy the 5.5 shoes. However, for the shoes with a cotton mesh top, go for the exact size as they will relax after a few wears.
Customer Reviews
Many customers praise how they felt a visible difference in Ryka shoes and other unisex footwear. Ryka feels very personal and customized. Moreover, no complaints of discomfort or stiffness have been made in any of their articles. Although some users complained that the toe area feels slightly stiff, sizing up solves that problem.
How to Clean Ryka Shoes?
Cleaning Ryka shoes is very easy. All you need is a soft bristle brush, a mild detergent, and water. First, use a dry cloth or brush to wipe off dust and dirt. Then use a wet brush and a mild, dye-free detergent to scrub the shoe lightly. Let the shoes dry in the air for 24 hours before use. You can also use a shoe deodorizer to get rid of any smell.
Can You Machine Wash Ryka Shoes?
It's best to avoid machine washing, but it is possible. Place the shoes and lace separately in a laundry bag and then lightly spin them with cold water and mild detergent in the washing machine. Do not wash the shoes with other clothes with dyes, and do not run the machine for long durations.
Final Thoughts
Ryka is unique for being the only women's shoe brand that caters to the custom needs of women's feet. Over the years, Ryka has grown from a small brand to a community of strong, confident, and independent women. If you are looking for fitness footwear that does justice to your unique femininity, Ryka is made for you.
Image Credits: Ryka.com