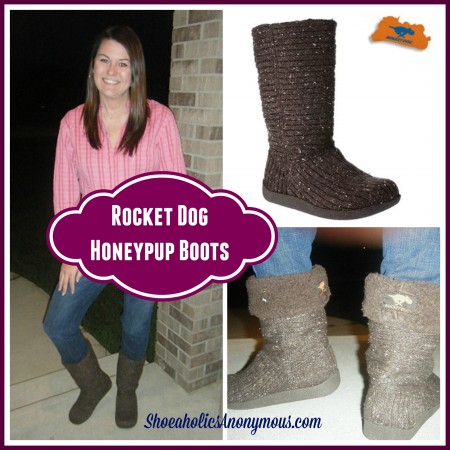 I have been wanting a new pair of warm boots to wear to football games, so I was extremely excited when Shoe-Envy.co.uk sent me these new Rocket Dog Honeypup Boots in Brown to review! I didn't even know Rocket Dog made boots! Here I was thinking they only made cool looking canvas sneakers.   Come to find out, they make several styles of Rocket Dog Boots for Women!
The knitted ugg style not only makes them look warm, they are indeed toasty warm with furry lining inside! And comfortable to boot (pun intended). They look perfect with my skinny jeans shown here. I also like how you can roll the cuff down to expose the Rocket Dog logo shown here.
The particular boot shown above, as well as other Womens Rocket Dog Boots can be purchased for £54.95 (which is roughly $87 in US Dollars – good thing I've been to London to know how to convert currency – actually I cheated).   Anway, you, too, can order cool Rocket Dog Boots here.
[compare q="rocketdog boots" gtm="on" l="6″ ct="US" v="grid" ft="fetchProducts" w="auto"][/compare]