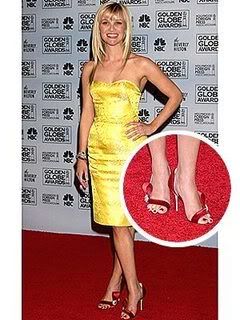 Did you watch the The 64th Annual Golden Globe Awards  Monday night?   What did you think of Vanessa Williams' hair?!  
And then there was Reese Witherspoon's bright bright canary yellow strapless dress.     I didn't care for the dress, but check out the shoes! These red hot and sassy Hollywould Red Ava open toe sling-backs  with over sized bows look similiar to the pumps Reese adorned  on t
he red carpet. Smokin' Red Hot!    Reese seems  to be  enjoying her single life after split from hubby, Ryan Phillippe.