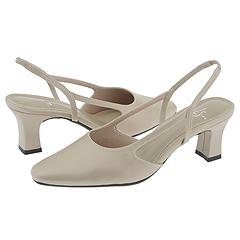 My good friend, Kelly, recently got married, and these are the shoes she chose to wear down the aisle with her ivory strapless dress.
LifeStride Shelley Dress Shoe at Zappos.com
Faux leather with a tapered toe.
Cushioned comfort footbed.
Elastic slingback strap for a perfect fit.
Fully lined interior.
Flexible dress outsole.
Wrapped dress heel.
She made a beautiful bride.