Disclosure: This post may contain affiliate links, meaning we get a commission if you decide to make a purchase through our links, at no cost to you. Please read our Disclosure for more info.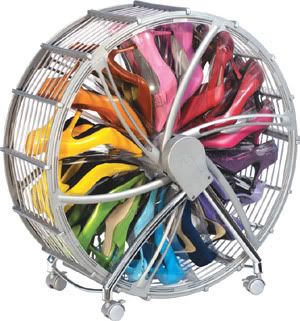 Shoe fanatics everywhere have been going crazy for the new Shoe Wheel by Rakku that offers the ultimate, stylish solution for those who have enough of conventional shoe racks (aka me). And if I owned all those colors of pumps, it'd be even more cool.
The shoe wheel (looks like a rolodex to me) includes 20 expandable pockets that can hold up to 30 pairs of shoes (up to mens' size 10.5).   The shoes are inserted into adjustable  pockets through elastic bands, which secure the shoes in place.
Want your own?   Sorry, they are sold out until the end of February.