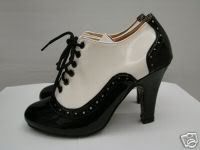 Q: Hello, I'm searching for this patent black/white tuxedo ankle boot as seen on ebay.   I'm from Germany and I can't find them in size 38.   Can you help me?   ~ Katja
A: Hi Katja, First off, I would recommend contacting that ebay seller as it looks like they are a power seller with many, many listings, and they may have some in stock, just not listed. Without knowing the brand name of these shoes, it  is difficult to find, but we found some similar alternatives (click pics below for more info). Can anyone else help Katja?
Have a shoe  question for us?   Submit it here.
[phpbay]ankle boot, 2[/phpbay]