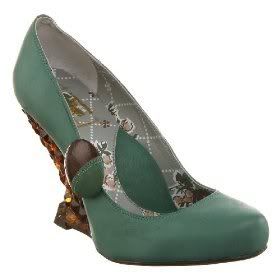 Do you follow us on Twitter yet?
Q: @shoeaholics Do you know of a good site to buy miss L fire shoes? ~ @myfunkycamera
A: Miss L Fire Shoes appear to hail from the United Kingdom.   We suggest Amazon.co.uk – the Miss L Fire Shelbee P/apple Button Ct shown above are on sale for £30 (regularly £85).   That converts to roughly $43.50 in US dollars, and Amazon.co.uk ships to the USA!   We also found some great buys on Miss L-Fire Shoes here!