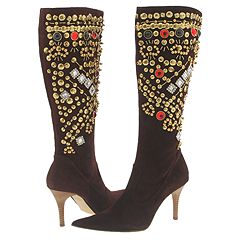 Do you ever go shopping and you see something  that you know exactly which one of your friends would like even if you did not like  yourself?  
Well, I think of my friend Kris  when I see these boots.  
She loves pointed toe boots with a taller heel and some decoration to add to the look.  
This Iron Maiden  Brown Boot  from Penny loves Kenny can be found on Zappo's.com.
Not sure if Kris will order them or not, but I know she will like them.
[phpbay]penny loves kenny, 3[/phpbay]