[youtube]GXbYGahsXMw[/youtube]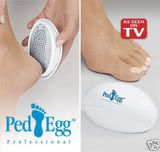 Ok, I succumbed to the hype of the PedEgg Professional Pedicure Foot File (as seen in my above Mailbox Monday edition).
My cousin swears it was totally worth the retail price of $9.99 (plus tax/shipping), but I was leary.
So when I saw a PedEgg for only 99 ¢, I thought I'd give it a whirl. The seller provided fast shipping, and I'm now on my way to softer soles as it gently  removes calluses and dry skin.
My girls are having a hey-day with it.