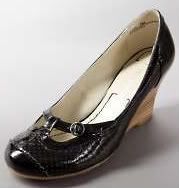 I went shoe shopping  last Friday over my lunch hour  as I had a 25% off coupon and found nothing; I know it's sounds impossible, but I left the store with nothing!
Then the next day I see these  round toe  wedges  in the ad for  Herberger's, I had to have them!    
Of course, the coupon had expired, but  I ended up with them anyway.
I  had a hard time choosing between the black and brown. Black won out.
This  "Relativity Justin" is an exclusive from Herberger's, and the three inch heel is perfect for me.
[phpbay]wedge sandals, 2[/phpbay]