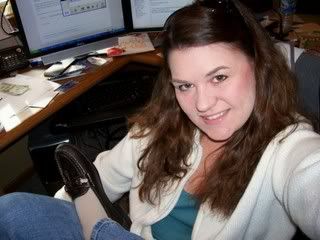 My boyfriend and I are currently pursuing a long-distance relationship, so we frequently send each other pictures via email.   Above is the picture I took yesterday (before I went shoe shopping), and I'm wearing Mootsies Tootsies Leather Loafers (great shoes  to wear while shopping, btw). Ignore my messy desk.
I have always been a fan of Mootsies Tootsies, and not just because it's cool to try to  pronounce the name (try saying  it really fast three times – totally tongue twister).   Mootsies Tootsies Shoes are really comfortable shoes.   In fact, I've bought  two more new pairs recently.   I got the  Mootsies Tootsies  Fran Slingbacks while visiting Patrick in Denver.  I wore them with a pin-striped suit for Christmas Eve service.

Then when I found these Mootsies Tootsies Aqualina Black Mules  while shopping in Omaha, I was instantly in love! I have wore them several times with jeans and even with black dress pants.   Definitely a staple shoe in my closet.
Now I'm gonna see if I can convince Pat to share and write about some of his shoes here! C'mon, chant with me… Pat. Pat. Pat.
[prosperInsert q="mootsies tootsies" gtm="merchant" l="6″ v="grid" ft="fetchProducts" vst="Buy Now" imgt="original" ni="true"][/prosperInsert]