I have been addicted to 6pm.com – the clearance store of Zappos.com. The have some great buys with free shipping.  Unfortunately, they have too many great buys that I sometimes go crazy and buy too many shoes!  The only drawback is that they don't offer free return shipping (like Zappos does) if the shoes don't fit. I can understand why since the shoes are already discounted, they'd lose money. But then I'm the one that loses money if I have to return them.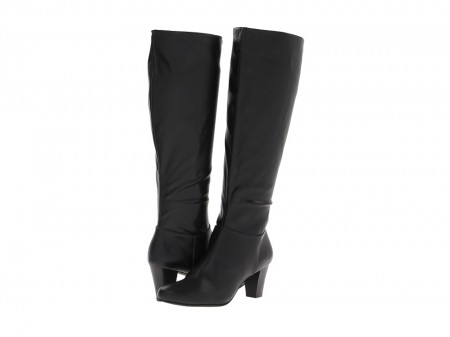 Anyway, I've been wanting a new pair of tall black boots with around a 2″ heel, so when I saw these Mootsies Tootsies Lady Lust boots (they are now $30, I paid $39.99), I figured they'd be perfect as I've had great luck with the Mootsies Tootsies brand (they are super comfortable).  Unfortunately I like my boots to be snug tight around my ankles and calves.  These were definitely not.  They made me look like I had cankles and huge thighs. A person with thick calves may appreciate them.
So I am losing money on this purchase as I plan to return them.  I hope I can get return postage for under $10.
And I'm still on the lookout for some "tight" tall black boots.