I ended up ordering and giving my daughter Macy these Roxy Maple boots that she wanted from Buckle.com in black/white plaid (now all sold out everywhere) since I didn't receive the Airwalk Flurry Mocs she initially wanted in time. And she loves them!
Roxy Maple Boots are still available in Chocolate Plaid Brown and Charcoal Plaid, but are selling out fast…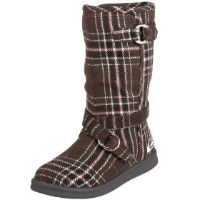 Shop Roxy Boots now! Shop Plaid Boots now!
Roxy Maple Boots, $59.62 – $68.95 from Endless.com (way less expensive than what I paid at The Buckle).   Trivia for the Day: When I was in high school, it was called The Brass Buckle, and I went to college in Kearney, Nebraska, where their headquarters are still located.
Roxy's Maple boot will certainly perk up your casual look. The boot has a comfortable flat profile, an eye-catching plaid upper with bold color accents, and soft faux fur linings for keeping you warm and toasty.
[prosperInsert q="plaid boots" gtm="merchant" l="6″ v="grid" ft="fetchProducts" vst="Buy Now" imgt="original" ni="true"][/prosperInsert]