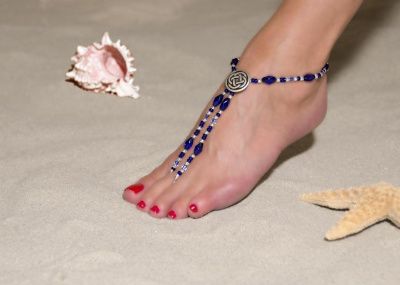 Jan from Jewels-byJan.com sent me some of her handmade Celtic Moon Barefoot Sandals to review, and I must say I absolutely love the concept.   It's too bad that I can't stand anything between my toes to actually wear them for long periods of time (yes, I have a problem). I did wear them for a picture.
Now if I was to get married in Jamaica or the Bahamas, I would probably endure them as they would be the perfect "something blue", and I'm actually partial to the "celtic star" symbol. Of course, Jan also makes several special styles that are actually designed especially for brides.
I could wear these beautiful bead barefoot sandals if I were ever to take up belly dancing (ain't gonna happen).   I could also wear them as ankle bracelets (that I could see happen).   But I think I'll add them to my "shoe loot" and give away a big shoe package to one lucky shoeaholic in the near future, so stay tuned for your chance to win!