Punxsutawney Phil saw his shadow last week on Groundhog Day so we still have to endure over a month of winter yet. Hasn't the nation been hit hard enough already with snow storms and blizzarding conditions? My kids have already missed too many snow days of school, so the Board of Education has tacked on extra days to the end of the school year.
This frigid weather makes me dream of the beach, toes in the sand. Actually it's more like the "Toes" song by the Zac Brown Band, "Toes in the Water, Ass in the Sand."   But spring break will be here before we know it. And then summer will creep up on us.   Are your toes ready for sandal weather?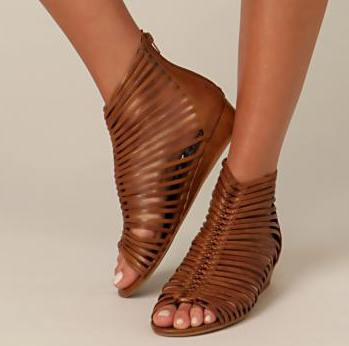 I love getting professional pedicures, having my feet pampered and toes painted up in fun colors. But most of the time, I trim and paint my toenails myself (I can surf the net at the same time with one foot up on my desk). I prefer O.P.I. Nail Lacquer as it can last for weeks without chipping.
Having previously worked at a dermatology clinic, I've seen a lot of gross looking toenails, where the nails are yellow and cracked and outright disgusting looking.   Before working there, I would have presumed that was just bad hygiene, but I now know it's actually a fungal infection called Onychomycosis.   I had to learn about nail fungus, and I learned not to pre-judge people by their looks.
Pictured above with some perfect looking toenails are Fishtail Braid Sandals by Jeffrey Campbell, available from FreePeople.com for $108.   Strappy wedge bootie with braided detail at the center and zip closure at back.
[compare q="Jeffrey Campbell Sandal" gtm="on" l="6″ ct="US" v="grid" ft="fetchProducts" w="auto"][/compare]