I just discovered this new site MustHaveShoes.com – a new online customizable shoe boutique that is supposed to help you find the perfect pair of shoes you are looking for. You simply type in what kind of shoes you are looking for, and all the available shoes that match your request will be displayed. Only shoes that match your specific style, color and/or size will appear.
Sounds cool enough, eh?   So I first searched for my favorite type of shoes "brown mules" and unfortunately it returned no results, just this error…
Nonexistent Boutique
Bummer. We don't have a boutique that matches your description.   However, we're always open to creating new boutiques for shoes our customers want.
So I was a little disappointed, but I immediately recommended a new boutique for BROWN MULES and they are to email me when my boutique is available (they did send me a nice email afterwards though).   Since it's a new site, I'll let it slide – they should have consulted the President of Shoeaholics Anonymous – ahem – first before launching the site!
My next search was "Poetic Licence". Why did I pick that you ask? Because it was the most popular among the search tags.   Seven dozen results came up this time!   Here was my favorite pick among them…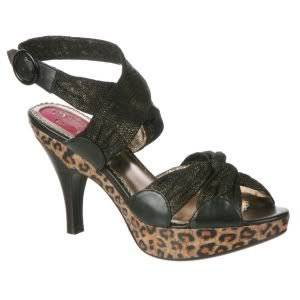 Cute, eh? Poetic Licence* Risky Business in Black.
*Why didn't they just spell it "License" so my spell check doesn't go nuts? Either that's true English (since they originated from London) or maybe they were a bit whacked out at the time (some of the styles were slightly whacked as well).