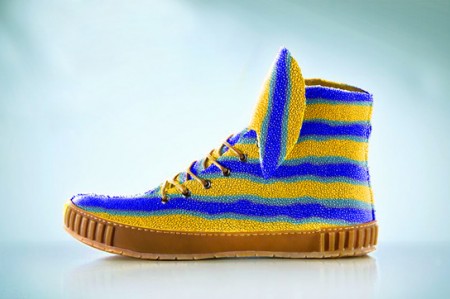 SciTechDaily.com is a blog that covers a variety of science news 2012 and beyond. Although I'm not a huge "science" fan (I don't even like sci-fi movies), I found their article about Rayfish Footwear to be quite fascinating.
Rayfish Footwear genetically engineers the DNA of stingrays so customers can actually choose their very own personal design that they'd like on their shoes! These shoes are handcrafted in Thailand and take about six to eight months to produce your custom pair of shoes. And they aren't cheap! These custom made sneakers are more expensive than Christian Louboutins and will run you approximately $1,800 once regular production begins (otherwise look at forking out $14,800 – $16,200 which is more than the price of a new car). The cost includes the "bio-customization" of the pair of stingrays needed to product your patten and shipping costs associated with them send anywhere in the world.
Of course, many are deeming this process unethical, especially PETA supporters. What are your thoughts about these bio-customized Rayfish sneakers? Like them? Hate them?
SciTechDaily.com has been offering the latest science and technology news daily since 1998 and recently began listing online coupons and discount promo codes, such as Vistaprint coupons, to help consumers save money online.