Do you follow @Shoeaholics on Twitter yet?   Here's a twitter conversation we participated in yesterday with Laura Coronado of Lollie Shopping…
lollieshopping  W/out going into a long story, I now HAVE to have gray cutout booties for fall. I have to. Or I will simply perish.
lollieshopping  If you find gray cut out booties for under $100, tweet me, please. I'm obsessed.
lollieshopping  The sad story on my gray cutout booties obsession is I just saw a June issue of Lucky mag featuring booties from Forever21 4 $21. Now gone.
lollieshopping  This is what I'm looking for, but in gray: http://bit.ly/199s2a  (Jamison Scrunch Bootie, $26.99 from Payless.com)  
shoeaholics @lollieshopping Do you like @ijustine's Steve Madden Midory ankle boots in Pewter Metallic Leather? http://bit.ly/ncwZT They are $93
lollieshopping  @shoeaholics Those r cute! But, I want more cutout and less metallic. A true gray. But that Justine is so adorable and pretty!
lollieshopping  These are great. But want an even lower price: http://bit.ly/ySA5x  (Tashkent by Cheyenne Magnay Cutout Platform Sandals, on sale for $169.70 from ShopBop.com, regularly $564)
shoeaholics @lollieshopping What about Madden Girl Asterick ($54) http://bit.ly/AQAMe or Steve Madden Daanger ($81) http://bit.ly/18ZWSJ ??
lollieshopping  @shoeaholics Daanger is a great option! Thanks! But, I never shop @ that place 4 personal reasons. I will search for 'em elsewhere. Thnk U!!
shoeaholics  @lollieshopping You don't shop at @Zappos ?! Oh well, Endless has them, too, and they are only $62.25! http://bit.ly/iYXGS  (Plus Free Shipping!)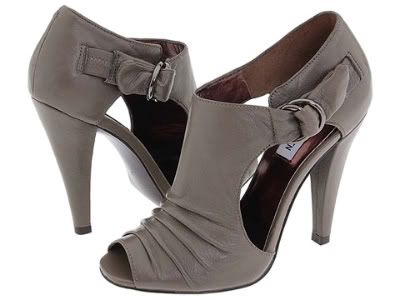 Steve Madden Women's Daanger Pump
Tune in tomorrow for more shoes we found out that "Lollie Shopping" drools over!
[phpbay]cutout pump, 1[/phpbay]