Disclosure: This post may contain affiliate links, meaning we get a commission if you decide to make a purchase through our links, at no cost to you. Please read our Disclosure for more info.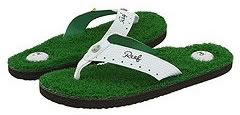 I played in a golf tournament this past weekend. It was  sponsored by a local bar and was for women only. We have a great group, lots to drink and lots of fun.
One of the ladies in our group was wearing these Reef Mulligan flip flops.   She is also the one that brought along  2 gallons of Bloody Mary's to sip on throughout the day!
But the bonus of the day,  more than seeing fun shoes, was that we won a lot of money!
Reef Mulligan Golf Sandals are available from Zappos.com! Patent leather upper with golf ball dimple emboss. Nylon backer for no stretch durability. Synthetic turf footbed. Soft rubber golf ball heel cushion. Reef-flex triple density EVA construction with anatomically correct arch support. Ball marker and tee included.
[phpbay]golf sandals, 2[/phpbay]