DISCLOSURE: THIS POST MAY CONTAIN AFFILIATE LINKS, MEANING WE GET A COMMISSION IF YOU DECIDE TO MAKE A PURCHASE THROUGH OUR LINKS, AT NO COST TO YOU. PLEASE READ OUR
DISCLOSURE
FOR MORE INFO.
It seems like every year when fall comes around, designers must decide if furry boots are in or out.  The rise in popularity of UGG boots about a decade ago marked a resurgence for fuzzy boots (which had been out of fashion since the "˜80s).   But of course, even though UGG remains a sought-after brand, their lumpy and practical winter boots are not exactly fashionable by any stretch of the imagination.   They definitely fall into the category of comfort rather than style!   However, the market for furry boots is assuredly on the rebound this season with everyone from designers to discount stores offering a wide selection of sophisticated, modern footwear to fuzz up any outfit (and in every price range).
[amazon_link asins='B004PY9P4E,B004PY69DO' template='CopyOf-ProductGrid' store='shoeaholicswp-20′ marketplace='US' link_id='8b40eb31-d50c-11e6-982f-69b79529c8d4′]
Here are a few options you may want to scope as we head into winter.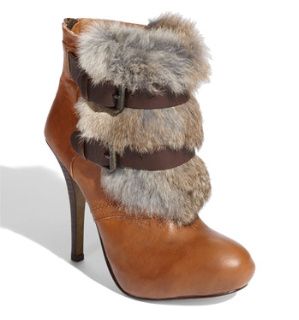 1. Dolce Vita "Tatum" Genuine Rabbit Fur Booties. An extremely popular look this season apparently includes strapping a small animal to the front of your short boots. I'm not going to lie; I don't completely understand the impetus behind this look, but it has been displayed in just about every fashion magazine under the sun since September, so it seems to be catching on. In any case, the Tatum boot is a prime example with a 4.5-inch heel (plus 1-inch platform), tan or black leather, faux laces (they zip in the back), and a tuft of fur on the front (held in place by two leather straps with buckles). At $248, you'd better really like them if you plan to buy. Available at Nordstrom.com.
[amazon_link asins='B00VPQTRQQ,B01GVAW0IC' template='CopyOf-ProductGrid' store='shoeaholicswp-20′ marketplace='US' link_id='a6e29688-d50c-11e6-9240-3d80eff403de']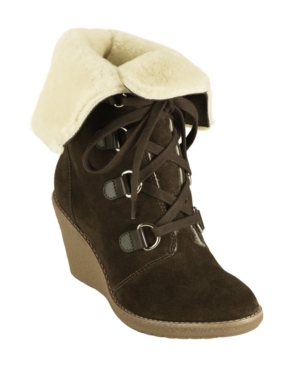 2.
Cole Haan Air Michelle Shearling Boots
. These ankle boots are a fair mix of comfort and style. Super-soft suede in chocolate brown will go with just about any casual outfit and they're lined in shearling wool (the top of the boot folds down to reveal the creamy white insides) to ensure that your toes stay toasty. They also feature a sturdy wedge heel to give you extra height with less wobble (very helpful in icy climes). For $298 they're a bit of a splurge, but considering they come from the ultra-cushy Air line, these versatile boots may be the best pair you buy all season. Available from  
Macys.com
or in Cole Haan stores.
[amazon_link asins='B01MDM96TT,B00N1H3ECU' template='CopyOf-ProductGrid' store='shoeaholicswp-20′ marketplace='US' link_id='b8c0de50-d50c-11e6-8d63-f141d0387b78′]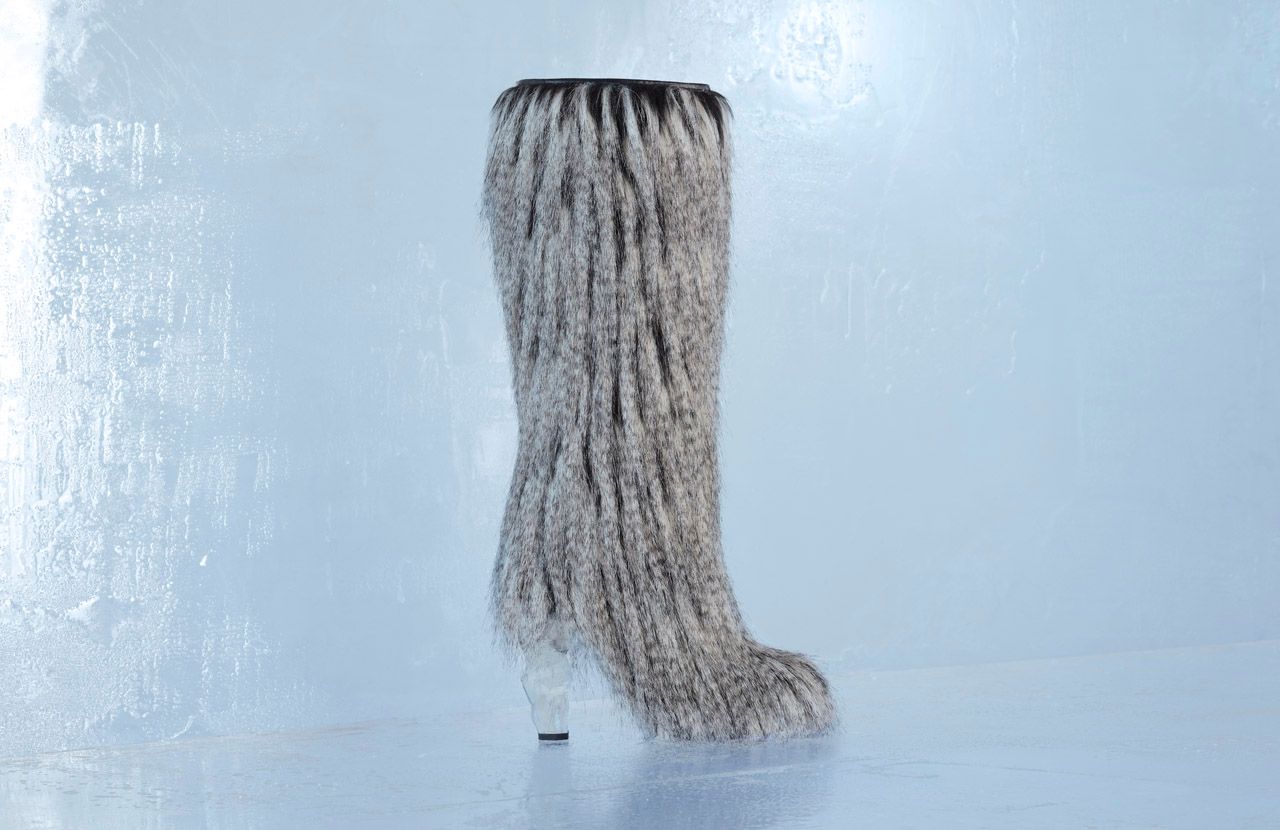 3.   Chanel Fantasy Fur boots. Advertised with 90mm icicle heels (yes, they are molded to look like chunky icicles), these knee-high boots designed by Karl Lagerfeld are covered from top to bottom in black and white fur that looks like it came straight off a wizened wookie (bonus: it's waterproof "" although publicity photos show that they do look a bit bedraggled when wet).   If you're looking for something to pair with leggings and a fur vest to complete your snow bunny look before you jet off to Aspen, then feel free to drop $1,350 on these winter wonder-boots.
4.   Sorel Joan of Arctic Winter Boots.   If you don't mind looking a bit like a duck hunter, these winter boots will serve you well in both form and function.   Girls who wear fleece jackets and go for the rustic look (which is surprisingly very "in" this season) will appreciate the beige-and-brown color scheme with a fluffy halo of fur around the top of these tall boots.   Those who want a little more panache will love the tone-on-tone tabs accenting the lace loops.   And for the practical ladies among us, a rubber toe will keep wetness at bay.   Available at Amazon.com for $109-$132.
[amazon_link asins='B011I3CV9A,B017OK1XVS' template='CopyOf-ProductGrid' store='shoeaholicswp-20′ marketplace='US' link_id='ca530120-d50c-11e6-ae1c-e37d7c454d5b']
5.     American Eagle Mallory Boot.   If you just can't see shelling out a stack of greenbacks to secure the hottest looks in boots, then hit up Payless Shoe Source for something that's more in line with your budget. At only $34.99, the knee-high Mallory boot is a steal.   It comes in black or brown suede with a fur cuff at the top and each boot is wrapped in a matching suede string with dangling fur pom-poms.   The rubber sole offers about a 1-inch lift in the heel and it is accented with off-white stitching.   These boots are cute, comfortable, and totally within any fashionistas price range.