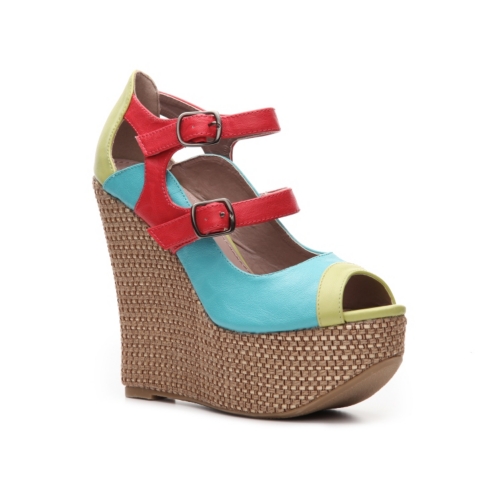 2 Lips Too Too Detox Wedge Pumps, $49.95
Shoes are often overlooked as valuable additions to a fashionista's closet. Catalogs focus on selling their ensembles from the knees up, showing customers how to coordinate outfits using pieces and accessories from within their brands. If the companies in question do not manufacture shoes, the outfits pictured might not feature any. If shoes are featured in high-end magazines, they will most likely be out of many people's price ranges. Since so much of the fashion imagery that is placed in catalogs and magazine editorials is designed to sell products, the fact that they do not always include footwear means that shoppers are left to their own devices. The good news is that once one begins to actively seek out fashionable footwear, it becomes easier to make educated choices that complement the rest of a wardrobe.
Choosing a Style
The easiest way to test the waters of fashion is to emulate celebrities. Aspiring trendsetters should identify a handful of actresses whose styles are worthy of imitation. Special attention should be paid to the shoes they are wearing. At first it can be hard to determine which styles of shoes will be short-lived and which will become classics, but these instincts will develop with time.
Applying Hollywood Style to Real Life
Celebrities do not always have to pay for the clothing they wear. An expensive pair of shoes may only be worn a handful of times, especially if the actress has agreed to be photographed wearing them or to speak highly of them in interviews. In instances like these, comfort and quality are not always prioritized; shoes that are only worn for a week do not need to be built to last, and the actresses may never know if their shoes would have worn out quickly. Real women who want to imitate celebrity style need to do a bit of internet research regarding whether certain styles of shoes are worth what they cost. Shoes that are uncomfortable or are unsuitable for walking long distances are not good choices for everyday wear even if they look great. Many popular high-end styles are imitated by mass retailers one or two seasons later, so less expensive versions of A-list shoes may be available for purchase.
Determining Functionality
When shopping, women must keep in mind whether the shoes they desire will augment or detract from the way they already dress.A great pair of boots or heels is always a great addition to a chic casual wardrobe that consists largely of jeans and fitted tops. When buying bridal shoes make sure they can be worn again for another occasion. Women who dress more femininely might be better off choosing delicate ballet flats or sturdy pumps. Shoes should not change the direction of one's fashion identity. Instead they should solidify the look that is already being cultivated. This does not mean that daringly pairing edgy boots with a dress is forbidden. Fashion embraces risk-taking. Women who decide to experiment with footwear should buy an inexpensive pair of conservative shoes as well for occasions that are not conducive to bold fashion statements.
[compare q="2 lips sandals" gtm="on" l="6″ ct="US" v="grid" ft="fetchProducts" w="auto"][/compare]