Shoes have become so much more than items used for protecting our feet.  Not only are they now fashion pieces, but jewelry as well.  What was that!? Yes, jewelry! Have a look at this list of ten of the most expensive and "blingy" diamond shoes ever made.
1. Diamond-Encrusted Custom Air Force 1 Nikes – $50,000
Featuring 11 carats of champagne diamonds, these diamond sneakers have forgotten all about practicality; it's the bling that matters. The brown diamonds surround Nike's trademark swoosh. Laced Up and C Couture designed these Nikes, and were purchased by Antwan "Big Boy" Patton. Without the diamond upgrade, these shoes went for $225. Colored diamonds are quite the way to dress up one's shoes.

2. Leon Verres "" up to $145,000
These, Leon Verres, shoes come in several versions, with the inner sole made of gold or platinum, and display gold leather, black silk, as well as diamonds and sapphires.

3. Borgezie Stiletos – $163,400
These flawless solid-gold stilettos designed by Borgezie, were carefully made by goldsmiths in high-temperature conditions to get the shoes just right. The sandals feature 2,200 diamonds and come with a 100-year guarantee!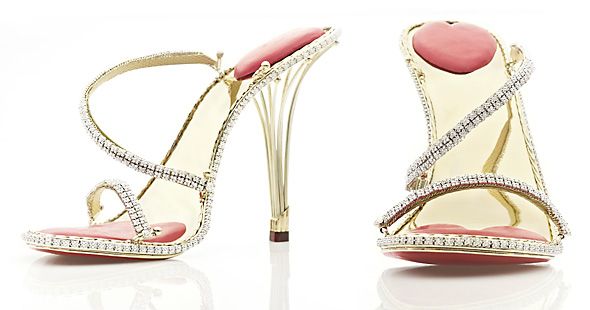 4. Christopher Michael Shellis Sandals – $229,169
These stunning accessories for your feet are made with pure gold as well as 30 carats worth of diamonds. British jewelry designer Christopher Michael Shellis wanted a unique type of jewelry for one's feet, as well as something that would be regarded as a timeless treasure.
5. Stuart Weitzman's Diamond Dream Stilettos – $500,000
Anika Noni, an actress who played one of the "Dreamgirls" in the popular movie, wore these glimmering shoes to the 2007 Oscars.  The stilettos feature 1,420 Kwiat diamonds set in platinum and are any woman's dream shoes.
6. Stuart Weizman's Retro Rose Pumps – $1 million
The feature that stands out on these 1940s-style shoes is the diamond studded rose made of 100 carats, which appear on both shoes.  This is yet another red carpet-worthy pair of shoes designed by the fabulous Stuart Weizman.
7. Stuart Weitzman's Cinderella Slippers – $2 million
These Cinderella-inspired slippers were worn to the 2004 Oscars by country music star Alison Krauss.  Made from Italian leather, the pair is set with 565 carats worth of diamonds.  In addition to the gold, leather and diamonds, the right shoe showcases an amaretto diamond worth $1 million.

8. Tanzanite Sandals – $2 million
Stuart Weizman collaborated with jewelry designer Eddie Le Vian on this pair of silver leather tanzanite sandals.  These shoes, displaying more jewels than most women will ever see, include the rare blue tanzanite gemstones and 128 carats of diamonds.  A total of 385 stones adorn the pair.
9. Rita Hayworth Heels – $3 million
These shoes were inspired by the late Rita Hayworth's favorite earrings, which were made with rubies, sapphires, and diamonds. The actress's daughter, Princess Yasmin Haga Khan, now owns the gem-adorned heels.
10. Harry Winston's Ruby Slipper "" $3 million
Ronald Winston, from the House of Harry Winston, designed these shoes in 1989 in honor of The Wizard of Oz's 50th anniversary. It took a total of two months for Javiar Barerra, a craftsman, to create these special shoes. 4,600 red rubies adorned these magical slippers.  Altogether, the pair displayed 1,350 carats of rubies, and 50 carats of diamonds.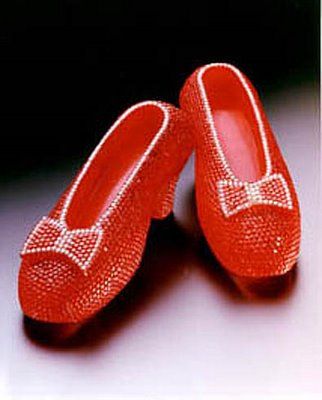 Shoes may be made for walking, but why not sparkle whilst you do so? These shoes may be some of the most expensive shoes ever made, but you don't have to shell out that much money to get the look. With the help of less expensive semi-precious stones, or just a few real fancy colored diamonds, such as yellow diamonds, your shoes can be the talk of the town!