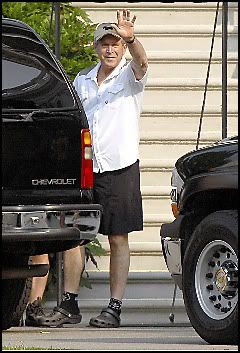 President George W. Bush was seen in Washington wearing CROCS  getting ready to go on a bike ride.   Listen Mr Prez, the socks gotta go.   You do not, I repeat DO NOT wear socks with Crocs.   There are ventilation holes in Crocs for a reason.
The Washington Post reports he  acquired the Crocs  on his own.   They were not a gift nor a marketing ploy.
According to Manolo, wearing Crocs should be grounds for impeachment.