While in Las Vegas, Squeak and I bowled at the Gold Coast – Squeak is quite the bowler!   Me, on the other hand, am not. I don't think I even broke 100. I always says I can't be good at everything.
We posed to get a picture of us in our bowling shoes.   Even though we both wear a 7.5, the shoes are obviously old and stretched out that we both ended up getting a size 7.   I'm glad we remembered to bring socks as I didn't want to put my bare foot in those well-used shoes, and it was $4 to buy a pair of socks from the vending machine.
I've always thought owning a pair of bowling shoes would be cool, so I set out to find some online. They are hard to come by!   The only retro style bowling shoes I found were on closeout at BowlingShirt.com, and they didn't have my size.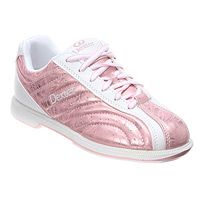 I did up finding a pair of bowling shoes that I did like and would wear (on a bowling league, probably not in public) in my favorite color of pink – Dexter Groove Bowling Shoes in Pink/White, available from OnlineShoes.com, $49.95 with Free Shipping. Get in the game with the Dexter Groove bowling shoe. The vintage design elements of this sleek women's bowling shoe merge with hip modern style to create a fun look. A synthetic upper lends durability, as the classic rubber outsole accompanies you through your game. The raised heel and microfiber S8 slide soles of the Dexter Groove bowling shoe give flash and panache day or night.
P.S. Did you notice our bowling shirts from BowlingShirt.com? They are even in our favorite colors (me=pink, Squeak=red)!