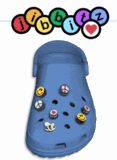 A Boulder, Colorado,  mom is such a big Croc Fan that she started Jibbitz LLC, a business  that produces Croc Shoe Charms that snap in the holes on the top of the Crocs shoes. Jibbitz come in various colors, shapes and themes from Disney to flowers and cartoons to holidays.
Jibbitz are available for $2.49 each from Shop.com
Jibbitz are  $2.50 each (wider selection) from Abernook  
Jibbitz are available at Amazon.com (various prices)  
Bid on Jibbitz on Ebay.com
Watch out, it looks like Jibbitz may have some competition when Shoe-Doodles launches.