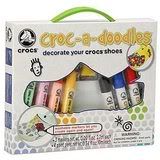 What will they think of next?!
You can now decorate and re-decorate your Crocs with this Croc-A-Doodles Art Set!   Set includes four washable paint pens in fuchsia, lime, orange and yellow; three washable markers in blue, red and black; an awesome stencil set and an artist sponge.
You can color directly on your Crocs to create your own, one of kind, custom shoe.   Create again and again.  
Crocs Croc-A-Doodles Set available from Shoemall for only $14.95 with Free Shipping!
[phpbay]crocs, 2[/phpbay]