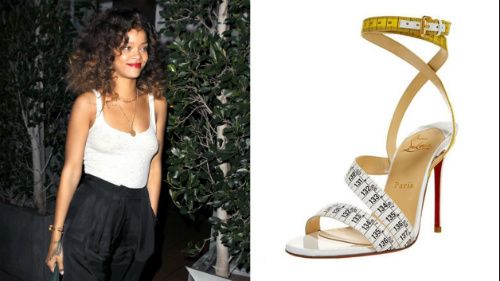 Pop singer Rihanna was recently spotted wearing Christian Louboutin Police Tape Sandals (available from Neiman Marcus and/or Bergdorf Goodman, $795) while dining at the Giorgio Baldi restaurant in Los Angeles (Source: bet.com)
The four-inch Police red bottoms come from the French designer's Spring/Summer 2011 line and are made with calfskin designed to look like measuring tape. With a springy yellow-and-white combination, the sandals stood out "" along with a plaid clutch and bright red lip "" against her understated white tank and black high-waisted Double Box Pleat Pants from Alexander Wang.

Now when I see fabric measuring tapes like such, the first thing I think of is a seamstress or tailor measuring up to cut the fabric pattern to fit perfectly. My second guess would be for fitness purposes, as I know people measure to see how many inches of fat they have lost (or inches of muscles gained). I certainly did not think about Police Uniforms because don't they just have the measuring lines up on the wall for you to stand against? I honestly don't want to find out the answer personally!
What types of Uniforms & clothing would you wear these Christian Louboutin Measuring Tape Sandals with?