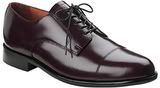 As a 9 to 5 a day guy in Corporate America, business casual is the dress code of most Fortune 500 companies. Trying to coordinate clothes for a 5-day week can be tough, but getting a good, comfortable pair of shoes can be toughest of all.   Style counts, but shouldn't substitute for comfort. For style and comfort, check out these Bostonian Akron Shoes.
Slick black design with a glossy look shouts professionalism. Most important, this design is quite comfortable. An added bonus is how quiet these shoes are on hardwood or tile floors. You won't get the "˜click click' noise like a woman's heel.
Expect to pay $90 to $115 for a pair like this, but with regular maintenance, these will last you for several years.   I bought my Bostonian Akron shoes from Shoebuy.com for $109.95 with Free Shipping.