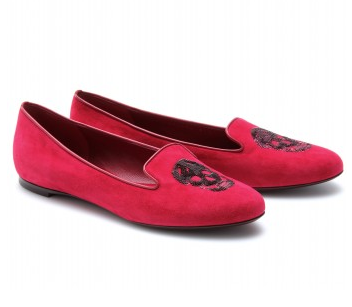 Who would have ever known that the working class high school drop-out that was Alexander McQueen would become one of the most internationally celebrated famous designers of a generation "" if not of all time? His bold styles and astonishing shows stunned and revolutionised the world of fashion. The remarkable rags to riches story that belongs to McQueen is one that will continue to inspire young designers of the future for years to come and deliver us fashion geniuses that might never have lifted needle to fabric otherwise.
Born on March 17th 1969 as Lee Alexander McQueen, he was one of six children to Ronald, a cab driver and Joyce, who taught social science. McQueen grew up in London's Lewisham district. Teased by his peers for his homosexuality at a young age, McQueen left school at 16 and found work on Saville Row, famous for their made-to-order men's suits. He then moved on to work with theatrical costume designers Angels and Burmans, picking up skills that would help him create his signature independent work of the future.
A stint as a design assistant in Milan followed, before McQueen moved on to Central St Martins College of Art and Design, and received his MA in Fashion Design in 1992. His final degree project, inspired by Jack the Ripper, was famously purchased in its entirety by London stylist and eccentric Isabella Blow, who went on to be a lifelong friend of McQueen.
Soon after graduating, McQueen started up his own business designing clothing for women, but was driven to working for Louis Vuitton owned by Givenchy, by a need for money. Later in his career, he admitted that he treated Givenchy badly, but the only way he could have dedicated himself would have been to give the whole house a new identity, which was not an option. In 2000, Gucci bought a 51% stake in Alexander McQueen's company, giving him the revenue he needed to leave Givenchy and invest all of his time and efforts into his own collection.
One of many things that separated McQueen from the rest of the fashion crowd, was his pride in his humble beginnings and his refusal to add on fake airs and graces to his character. His lack of traditional good looks was inconsequential. According to those close to him, McQueen was proud of breaking the mould of what a successful designer should be like.
As is with many legends of our time, his story ends in tragedy. On February 11 2010, Alexander McQueen committed suicide after the deaths of Isabella Blow and his mother. His legacy lives on through his fashion house, which continues to celebrate flamboyancy, magnificence and spectacle in true McQueen style.
His legacy very much lives on in his designs. Feeling a tad emotional, I remembered how emotional  Sarah Jessica Parker got at his funeral.
You can find Alexander McQueen shoes for the best price on Amazon.