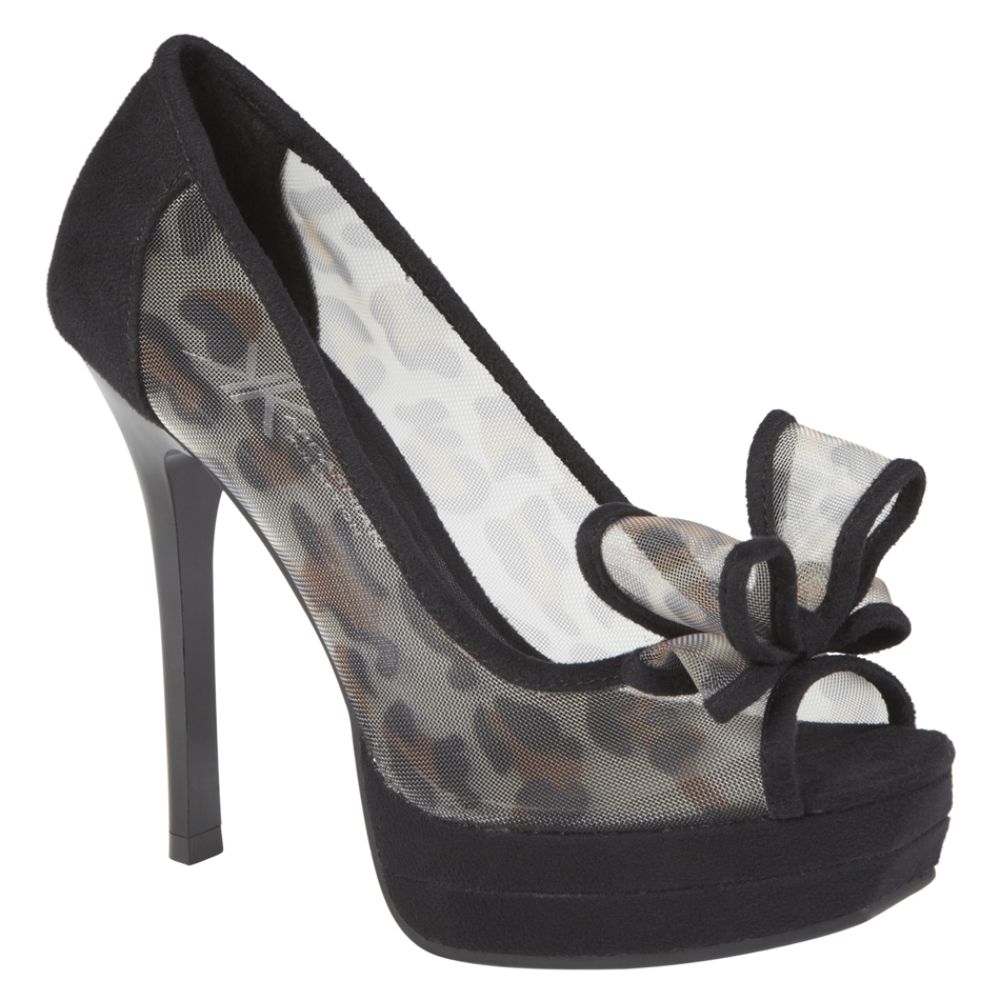 One of the highlights of fashion week has been undoubtedly the Kardashian Kollection. The royal family of reality television has launched yet another whatever they touch turns to gold project – a clothing and accessory collection with Sears. And like everything Kardashian, this collection begins with a K and ends with you looking like Kim, Kourtney or Khloe! Not too shabby.
In addition to body hugging dresses, oversized bags and bold bracelets, the Sears Kardashian Kollection rocks shoes as well. Most of the Kardashian shoes are black. In fact, all of the shoes are black with the exception of one style that comes in leopard print – a definitive Khloe influence. Khloe loves her leopard prints. And a majority of the shoes are platform. For now, at the initial launch of this kick-butt kollection there are only a limited number of shoes, but don't let lack of quantity stop you from checking out these fabulous foot candies.
Khloe and Kourtney swear they are uber comfy, a keyword for everything in the collection, and affordable. On "Good Morning America" Kourtney said of one of the shoes, "They're fabulous. I wore them all day long at a photo shoot and they're comfortable." And on an appearance on "The View" Khloe said, "The shoes are so comfortable. I could be in these shoes for hours on end. They're really, really comfy!"
All of the sensational shoes and boots in the Kardashian Kollection are named after cities. There's the Aspen bootie, the Washington DC peeptoe, the Manhattan boot, the Atlanta studded wedge, the Los Angeles pump, the Los Angeles Leopard pump (thank Khloe!), the Dallas t-strap pump, the Miami leopard mesh with bow (shown above), the San Francisco bootie, the Seattle boot with front zipper and the Chicago bootie.
While we cannot confirm the reason for all of the shoes being named after cities, any Kardashian fan can take a guess. Could it be inspired by "Kourtney and Khloe take Miami," or "Kourtney and Kim Take New York?" All signs point to perhaps. And maybe it's a foreshadowing of future Kardashian shows to come. After all, can "Kendall and Kylie Take Seattle" really be far behind.
For shoe-a-holics who like to get dressed from the feet up, the Kardashian Kollection is perfect because once you found the shoes you want to wear you can find the rest of your outfit from the same line. Get dressed without thinking and come out looking hot, sexy and kompletely Kardashian!