Disclosure: This post may contain affiliate links, meaning we get a commission if you decide to make a purchase through our links, at no cost to you. Please read our Disclosure for more info.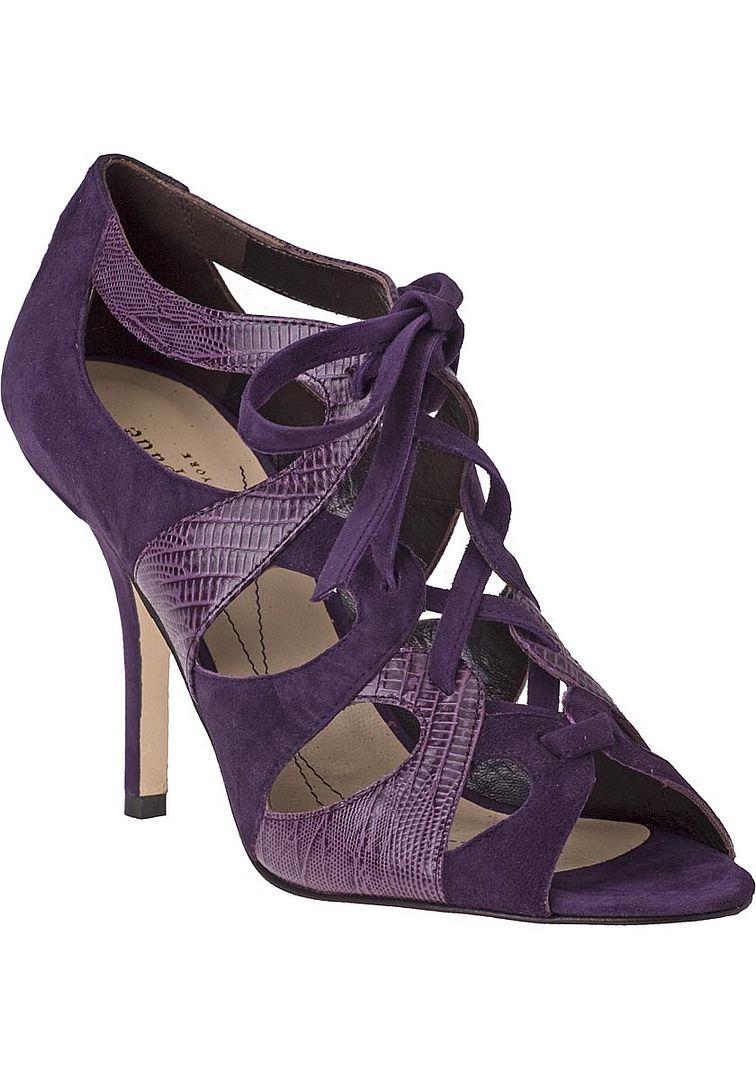 Kate Spade Chad gillie laced pump in purple suede/leather is designed for dancing til dawn and is currently on sale at Jildor Shoes
For shoe lovers everywhere the shoe trends of this Fall/Winter ensures that every woman will find a style that they adore while still being comfortable. The fashion is all encompassing with shoe toes varying from pike to rounded and colors including black, beige, grey, navy, chocolate, burgundy, deep violet, red, khaki and metallics. The materials for the season include the usual leather, but this Fall and Winter reptile and patent skins, as well as suedes and satins are also hot materials. Let's take a closer look at the trends for this year.
1. Reptile skins
Reptile skins are very popular this season with an emphasis on snake skin rather than crocodile. While you will find shoes made from crocodile leather, the snake skin trend has already been widely used in collections by Chloe, Giorgio Armani, Donna Karan, Louis Vuitton, Balenciaga and others.
2. Patent leather
While patent leather isn't as versatile as normal leather its eye-catching appeal ensures that it remains popular season after season. Whether you choose patent boots or shoes ensure that you get them in the latest dark hues. Try colour combinations such as navy and burgundy, chocolate and beige or stick to the traditional black and white for timeless, classic style.
3. Suede
This leather is the epitome of luxury and style which is why designers love to incorporate it into their designs. From kitten heel pumps to thigh high boots, suede is one of those luscious materials that demands attention and truly brings a shoe to the forefront of your outfit. And with suede footwear available in a selection of eye popping colours you can ensure that you stay on trend this season.
4. Satin
Luxurious, feminine and elegant, satin shoes give your outfit a classy edge. Team them with your evening wear for a truly chic appearance.
5. Lace
Lace detailing remains very popular although this season the trend venture into shoe designs as well. No longer soft and feminine, the use of lace detailing this season is aggressive and sexy as seen in the designs of Marc Jacobs, Alexander McQueen, Christian Dior and so on.
6. Buckles
Noticeable particularly on boots, the use of buckles gives shoes eye-catching edge. Available in both ultra feminine and daringly chunky, footwear with buckles is hot this chilly winter.
7. Spike heels
Sexy, dangerous and highly erotic, spike heels are the ultimate shoe trend of the season. Featured in massive window displays, showcased on the catwalks and found on cardboard hangers in your local shoe store, there is a huge variety of designs. One thing is for sure "" whichever style you choose make sure you have a pair of spike heels in your closet this winter.