Disclosure: This post may contain affiliate links, meaning we get a commission if you decide to make a purchase through our links, at no cost to you. Please read our Disclosure for more info.
A never ending story… do I spend $150 on one pair of highly fashionable shoes, or do I buy three less fashionable pairs of shoes for $50 each? Do I buy before the season starts (and prices are high) or when the season is down (but you are running behind with the current fashion)?
When you have a good look at all the outlets and discounts stores you can actually find nice pairs of shoes for a good price and still be very fashionable!
Let's have a look at five great pair of shoes that are a bargain.
1. Linzi Alana Gladiator Sandals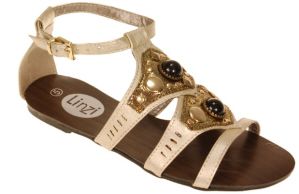 This Linzi Alana in the style of Fearn Cotton is only £13 (around $20). A beautiful classic design that can be worn in summer with many colorfull dresses. It can be bought at linzishoes.com
2. Circa by Joan and David Caitrin High Heel Sandals

If you are looking for more classy sandals, then you don't have to look any further. This classy Joan & David high heel sandals are perfect for a formal occasion or a night out. They are currently on sale from Zappos.com for $76.83 (regularly $99).
3. Brooks Brothers Foldable Ballerina Flats
Simple, but classy. The foldable ballerina flats have a great fit. What else can you expect from Brooks Brothers? I hear what you think… How can I afford Brooks brothers shoes? Well, these shoes are not on sale, but they are still not very expensive! For just $68 you can buy it directly from BrooksBrothers.com.
4. Bolaro 92354 Brown Women Boots
For a diversification of fashionable shoes that are not too expensive we picked a brown leather knee high boot form Bolaro. This will finish your wardrobe for just… $39.99 ! They're available at ShoeOcean.com.
5. Birkenstock Gizeh Silver Birko Flor

The Birkenstock Gizeh has been a hot item since a few years back, although it had its best days in 2009. In 2010 and even the upcoming year, it will be regularly seen. From our experience we heard many women (and men) either hate it or love it. Although the original price is $80 from ShoeBuy.com.
There are many discount stores available on the internet. Stores often have discounts at the end of the season. And when the season is up, never throw away your shoes!!!
Many designers take inspiration from the past. Your old shoe will come back and be a fashion item again in 5-10 years from now.